Blessingsonthenet Features More Than 600 Festival, Fairs, Fast, State Festivals, Regional Festivals, Festival Recipes, Temple Festival,Festival Gallery (Audio, Video,Photo Gallery) of India.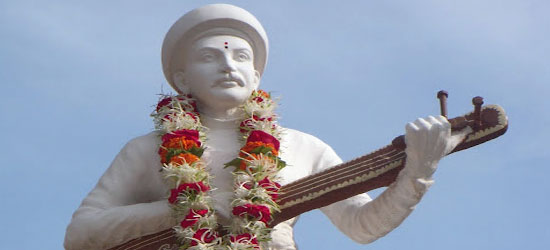 Sant Tukaram Jayanti, also known as Tukaram Beej, is believed to be the day when Sant Tukaram left for his heavenly abode. It is observed on the second day of the Krishna Paksha (waning phase of moon) in the Falgun or Phalugna month (February - March) as per traditional Marathi calendar. On the day, devotees gather at temples and at scared places at noon and perform various rituals as a mark of respect to great Bhakti saint.
Vithoba Temple at Dehu in Maharashtra is the home town of Sant Tukaram Maharaj and thousands of people pay respect to Sant Tukaram here on the day.
It is popularly believed that Sant Tukaram left his body on the forenoon of the second day in Falgun Krishna paksha in 1650 AD.
One of the greatest exponents of the Bhakti cult in Marathi culture, Sant Tukaram is worshipped by millions of people around the world and people take inspiration from his poems and teachings
More on Sant Tukaram Jayanti