Blessingsonthenet Features More Than 600 Festival, Fairs, Fast, State Festivals, Regional Festivals, Festival Recipes, Temple Festival,Festival Gallery (Audio, Video,Photo Gallery) of India.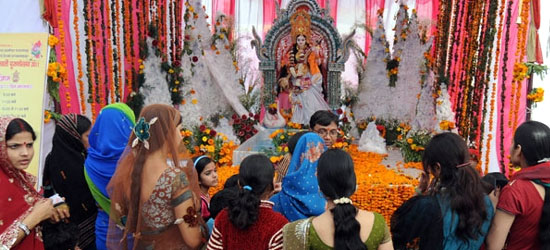 Basant Panchami is celebrated on the Panchami (fifth date) of Magh Masa, Shukla Paksha. In India, specifically six seasons are known. Spring season arrives after the autumn season. Everywhere colourful flowers can be seen. Yellow mustard swinging in farms looks really marvelous. Spring season is called 'Rituraj', the king of all seasons. Lord Vishnu, Kaamdev and Rati is worshipped on this day. Lord Brahma, the creator of universe, created Goddess Saraswati on this very day. Hence, Goddess Saraswati is worshipped on this day.
Vasant Panchami has been observed as a festival for worship of Saraswati since the Vedic and Puranic age. It is believed that on this day Brahma created Saraswati to dislodge the inspidity of the creation. By bestowing a Veena in her hands, he allotted the function of speech through her to the world. She was thus named as ``Veena Vandini'' and ``Vani Daayani'' (the Veena player and the giver of speech).
It is by the grace of Saraswati, that Gods and men and are made conversant with good behaviour, intelligence, brilliance, music, speech, poetry, and learn to differentiate between right and wrong.
Therefore there is the tradition of the worship of Goddess Saraswati on Basant Panchami festival.
Sweet smelling flowers and powdered sandalwood are offered to the goddess as on this day
This is also considered an auspicious day, to begin anything related to knowledge and art. Traditionally it was on this day that great saints and teachers, admitted students in their schools. Many kings used to organize literary seminars and symposia on this occasion and poets, dramatists and writers would be felicitated and rewarded. Great dramas of Kalidasa and other dramatists would be performed before an audience on this festival
Sri Krishna also worshipped Saraswati on this day by virtue of which he became an expert in the sixteen arts and in all others.
Even in modern days, especially in Bengal it is on this day that children are made to start their education, so that they are blessed by Goddess Saraswati.
Kamdev the god of love and romance, and the one who also represents the creative moral force is also invoked and worshipped on this day, Feasts are arranged in his honour. On this memorable day, Shiv burnt Kamdev to ashes, by opening his third eye, while he tried to inspire Shiv with love. But on the intervention of his wife Rati, and other gods, Shiv allowed him to be reborn. He is shown riding a parrot, carrying a bow made of sugarcane, strung with a line of humming bees, and with it shooting the five darts of desire. He is accompanied by his wife Rati and his friend Vasanta (Spring).
In the Punjab and the rest of North India Basant Panchami is the festival, observed on a large scale. It is for the farmers the time when the mustard crop is ripe. People wear yellow coloured garments. They cook yellow rice. The famous folk dance ``Bhangra'' of Punjab glorifies the congregations on this festival. This is a festival of jubilation when the farmers are rich with their yield.

Basant Panchami in Kashmir
In Kashmir on Vasant Panchmi or spring festival. Yellow is considered the colour that represents this season. As yellow is believed to be a colour particularly acceptable to the sight of the gods in spring time people dress themselaves in yellow coloured clothes on this day.
At this period the Rajputs give themselves up to even greater license than usual in relation to food and drink, and even the most sedate people burst into songs in public a testimony to their praise of nature.

Basant Panchami in Assam
The spring festival is specially honoured by the forest tribes of Assam. It is as gay as a carnival and while it lasts, the women especially the young women, enjoy unusual liberty. Many days before the actual festival, the young people in the villages may be seen moving about in groups, gaily dressed or forming circles, in the midst of which the prettiest girls dance with their long hair loose on their shoulders. The first day of the festival is devoted to exchanging visits, the next day is devoted to bathing and on the third day, the inhabitants of several groups of villages, old and young, meet at some appointed place, and give themselves up to thorough enjoyment.