Blessingsonthenet Features More Than 600 Festival, Fairs, Fast, State Festivals, Regional Festivals, Festival Recipes, Temple Festival,Festival Gallery (Audio, Video,Photo Gallery) of India.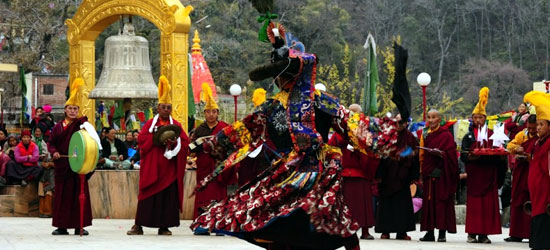 Arunachal Pradesh Festivals : Losar Festival
Losar festival is also known as the Monpa festival and is one of the important festival of Monpas. The festival is celebrated to commemorate the advent of New Year. Before the commencement of Losar, they make arrangement for a feast with local drinks where all the relatives and friends are entertained and all wish each other happy New Year. On the 15th day of the same month they bid good bye to Losar festival with merry making.

Jomu Festival
A religious festivals of the Monpas, this is a get together sort of festival which is observed after the completion of sowing of seeds between the 5th and 6th months of Monpa i.e. the Lunar calendar. In this festival the villagers go to the Gompa in their traditional dress. The function is graced by the oldest member of the village.

Chosker Festival
In this religious festival of Monpas, the Lamas read religious scriptures in the Gompa for a number of days. Thereafter the villagers carry the religious books on their back in a procession under the guidance of senior Lama. The procession goes round the cultivated fields which fall within the jurisdiction of the village. The significance of this performance is to ensure better cultivation and protect the grains from the insects and wild animals and also for the prosperity of the villagers. Normally this festival is performed during the months of April-May, after the Jhum (cultivated) fields are prepared. The ritual involves the suspension of all outside activities for a definite period.

Ojiyale Festival
The wanchos celebrate their most popular festival, Ojiyale during March - April, for a period of six to 12 days interspersed with prayer, songs and dance. Villagers exchange bamboo tubes of rice beer as a mark of greeting and goodwill. Pigs' skin is offered to the village chief as a mark of respect.
More on Arunachal Pradesh Festivals : Losar Festival