Blessingsonthenet Features More Than 600 Festival, Fairs, Fast, State Festivals, Regional Festivals, Festival Recipes, Temple Festival,Festival Gallery (Audio, Video,Photo Gallery) of India.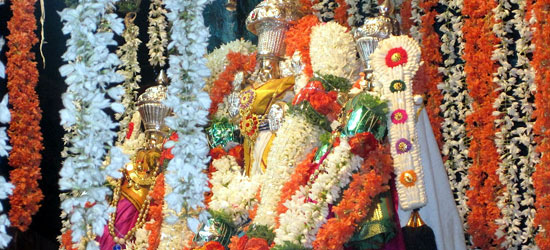 Held at the renowned Dharmaraya Swamy Temple in Bangalore, the Karaga festival is a celebration of goddess Shakti. The festival, which starts on the full moon day of Chaitra and lasts for nine days, derives its name from the earthen pot in which the goddess is invoked.
Started by a Tamil-speaking community of gardeners called Thigalars, the Karaga festival is a fiesta of spectacular rituals and processions. Just after dusk on the Karaga day, a priest of the Dharmaraya temple sets out from the temple precariously balancing an earthen pot bedecked with flowers.In this Karaga, the name given to clay pots symbolizing power(Shakti) are carnied by devotees on their heads in a procession that ends at Sampangi tank, where the pots are finally soused in water. The 12 miles long procession starts in the night. Devotees have to balance the pots on their heads so as to guard them from falling. It is believed that the balancing of the pot tests the strength of the character of the devotees. The same ritual is followed by the priest (decked up like a woman) in the main temple procession.
The priest, who observes penance for several days before the festival, is dressed in female attire in saffron hues and wears the mangalsutra (necklace) of his wife. He leads a stunning procession from the temple accompanied by a dazzling play of swords by a number of dhoti-clad, bare-chested Thigalars.