Blessingsonthenet Features More Than 600 Festival, Fairs, Fast, State Festivals, Regional Festivals, Festival Recipes, Temple Festival,Festival Gallery (Audio, Video,Photo Gallery) of India.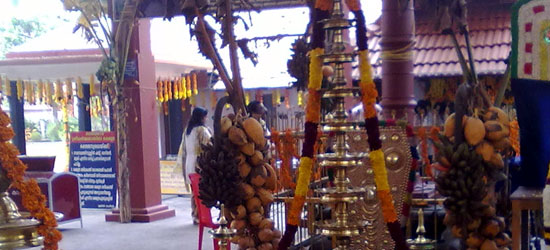 The Aazhi pooja is an important event associated with the pilgrimage to Sabarimala. It is more or less a celebration that symbolizes the attainment of a renunciant's frame of mind. The pooja is performed on an auspicious day before the holy trek actually begins. This ritual is also called Vellamkudi, Daham Veppu or Padukka. Vellamkudi in the local Malayalam language means the act of drinking water and Daham Veppu, quenching one's thirst. Human beings long for satisfaction of their various material desires as a result of their undue attachment to the body. Such unquenched thirsts are impediments in their quest for God-realization; once they are removed, the devotee experiences supreme bliss. By leading a spiritually oriented life for several days, the Ayyappa bhaktha attains a considerable degree of purification, both mentally and physically and this culminates in Aazhi pooja.
A special pandal is erected for this purpose. Fuels for aazhi (fire blaze) are stored in stacks in front of the pandal and camphor is used to start the fire. As the aazhi blazes and tongues of flames go higher, the worshippers circumambulate it chanting 'Swamiye Saranam Ayyappa.' Rice flakes, parched rice and pieces of coconut are thrown regularly into the raging fire. The flames are believed to be Lord Ayyappan himself and the articles hurled into the fire represent worldly desires which are annihilated by Lord Ayyappan who is the embodiment of true wisdom. Sometimes, the Ayyappas, ecstatic and oblivious to their surroundings walk on the aazhi, out of devotional fervour.
Soon afterwards, poojas are performed and camphor burnt. Burning of camphor leaves no traces behind; it therefore, connotes total destruction of the meaningless longings of the aspirant.