Blessingsonthenet Features More Than 600 Festival, Fairs, Fast, State Festivals, Regional Festivals, Festival Recipes, Temple Festival,Festival Gallery (Audio, Video,Photo Gallery) of India.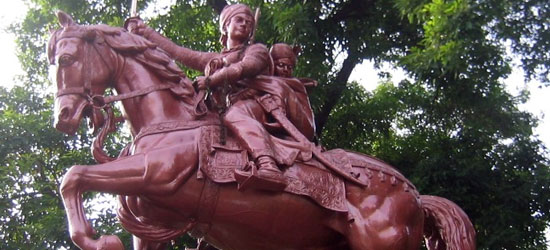 The state government of Jhansi's tourism department organizes the Jhansi Mahotsava. This festival is a week long event that takes place at the end of February or beginning of March. You get to see dance and music performances during the festival that highlight the culture of Bundelkhand. These performances include alha songs, suata and rai dance along with different competitions, a food festival, a handicraft fair, etc.
The main events of this Jhansi festival are held in an open air auditorium that is found near the state archeological museum during evenings. You can admire the fort that stands in the background of the auditorium in its splendour of yellow light that gives a spectacular view of the night.

This Jhansi Mahotsava is a treat to people interested in poetry culture and tradition of Jhansi. This is because these performances bring back memories of legends that have excelled in the field of poetry. The highlights of the competitions include rangoli competition, mehandi competition and recipe competition. These competitions are held in the state archeological museum premises while the handicraft fair and some other competitions are held in the Rani Lakshmi Park.
Then there is the state vegetables and flowers exhibition that are worth visiting while in Jhansi. This is basically an exhibition that lasts three days and is organized by the state government. The exhibition is held in the state gardens of Narayan bagh during the month of February. On visiting the exhibition, you find different types of vegetables, fruits and flowers found in and around Jhansi.
.