Blessingsonthenet Features More Than 600 Festival, Fairs, Fast, State Festivals, Regional Festivals, Festival Recipes, Temple Festival,Festival Gallery (Audio, Video,Photo Gallery) of India.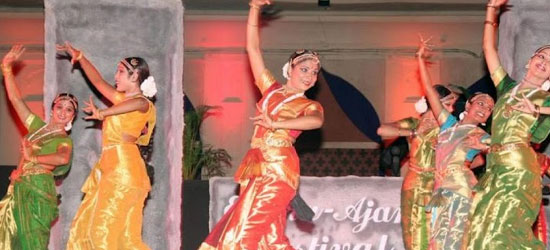 Ellora festival of dance and music held in the splendid surroundings of the world-heritage listed cave temple of Ellora, about 30 km from Aurangabad, Maharashtra.
Ellora festival of dance and music held in January at the magnificent Soneri Mahal in Aurangabad. Dating back to 17th century, this architectural marvel was built by Pahadsing, an Orchha chieftain.
The festival known previously as Ellora Festival was held in the splendid surroundings of the World-heritage listed cave temple of Ellora, about 30km from Aurangabad, Maharashtra. Ellora comprises of about 34 caves cut out of the sloping side of the Chamadri hills. Excavated between 600-1000 AD, the caves belong to Buddhists, Jain and Hindu faiths. Ellora represents some 300 years of experiments carried out by different faiths with their very different iconography and structural compulsions. Another 28 caves have been discovered later by the Archeological Survey of India. The masterpiece of Ellora is the Kailash Temple. It is the world's largest monolithic sculpture, sculpted out of a rock by 7000 labourers over a 150 year period.
This festival held at Soneri Mahal, showcases a mix of classical and folk- dances, instrumental, vocals, milajula mushaira etc from the best talents in Indian music and dance. The Festival aims to put the historical and pictorial sites in and around Aurangabad in the spotlight. It is a unique and charming way to experience some of them such as Daulatabad, Bibi-ka-Maqbara, Panchakki (A watermill), Lonar, Shirdi, and the magnificent caves of Ellora and Ajanta, imbibing centuries of history and culture. Along with the Ellora Ajanta Festival, Kalagram- the crafts Haat of Aurangabad will host Lokotsav which showcases the antiques, crafts, folk arts and cuisine of the region.
The Ellora Ajanta Aurangabad Festival is organised by Aurangabad Festival Committee under the chairmanship of the Divisional Commissioner Aurangabad in association with Maharashtra Tourism Development Corporation (MTDC), where India's renowned artists perform their talents in music and dance.