Blessingsonthenet Features More Than 600 Festival, Fairs, Fast, State Festivals, Regional Festivals, Festival Recipes, Temple Festival,Festival Gallery (Audio, Video,Photo Gallery) of India.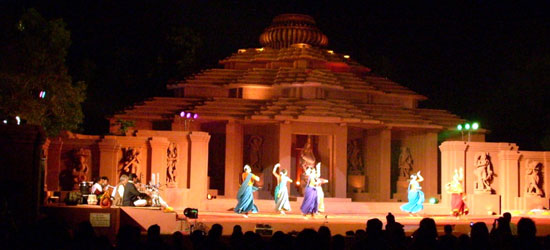 The sun temple in Konark is famed as a world heritage site. The exquisite 'Natyamandir' or the 'dancing hall' of this 700-year old shrine is an architectural wonder with well-adorned sculptures in Odissi dance poses.
Konark Dance Festival is held in December in the beautiful backdrop of the Sun temples in Konark, Orissa. This world heritage sight formed way back in the 13 th century on the beach of Chandrabagha. The exquisite 'Natamandir' or the 'dancing hall' of this shrine is an architectural wonder.
Every inch of Konark temple walls have been covered with fine artistic designs of the ancient times. Musicians playing drums, cymbals and other musical instruments adorn the sculptures in Odissi dance posses. It is blessed with changing intensity and a range of emotions.
Konark temple near puri is the venue of a joyous festival of classical dance and music, which is held annually on December. A host of celebrated dancers from all over the country perform in the open-air auditorium. The festival is a celebration of the much appreciated Odissi, Bharathnatyam, Manipuri, Kathak and Chau Dance - a lavish feast for the eyes and ears. The sound of Ghungroo bells, flute and Pakhauj gives it a festive mood. There is also a crafts mela, with a variety of handicrafts and tasty cuisine during the festival. The festival is jointly organised by Orissa Tourism and Odissi Research Centre.
Konark Dance Festival takes place in an open-air auditorium against the backdrop of the floodlit temples that reverberates with the beats of 'Raga' and 'Tala' to fill the air with the sounds of classical music. The classical extravaganza is a journey through eternal ecstasy.
The festival provides a platform for both to the performing artiste and the dance connoisseurs in appreciating the essence of various classical dance forms of the country and also to the new artists who are yet to make their mark on the international scale.
More on Konark Dance Festival