Blessingsonthenet Features More Than 600 Festival, Fairs, Fast, State Festivals, Regional Festivals, Festival Recipes, Temple Festival,Festival Gallery (Audio, Video,Photo Gallery) of India.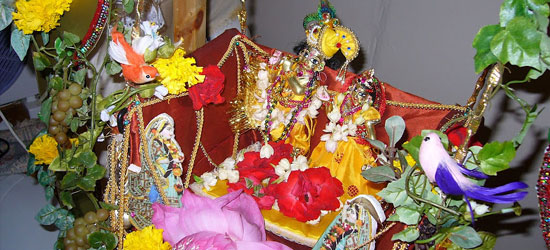 Jhulan Yatra, or the swing festival, is observed in the Shravan month and begins on the Pavitra Ekadasi and is generally observed for 5 days until Sravan Purnima or Balaram Purnima. In some temples, the Jhulan Yatra festival is observed only for a day. In other temples, it is celebrated on all five days from Ekadashi to Poornima.
These festivals are not mere rituals, as they all have practical service functionality to invoke loving servitude of the devotees for the Lord. Sri Krishna is the Supreme Enjoyer and He organizes many situations in which He can incorporate us, His separated parts and parcels into His loving service which is our natural condition in the spiritual realm.
Over the past few months, the weather changed from Vasant Panchami (Spring) where everyone dresses in yellow and goes to the fields, performs fertility rites, and plants new crops, etc., to Dol Purnima where scented powders and flowers are thrown on the body of the Lord playfully, and singing and dancing goes on for His pleasure.
As the temperature rises in summer, the Chandan Yatra is performed, where, from the Akshaya Tritiya for a period of 21 days, the body of the Lord is anointed with a cooling paste of scented sandalwood mixed with camphor, musk, saffron.
However, just to be anointed with something cooling is not enough. The Snan Purnima in the month of Jyestha is the ceremonial bathing of the Lord with cool scented water, milk, yoghurt etc.
Although it has become especially festive in Jagannath Puri, the actual event originates in Vrindavan with the devotees bathing Krishna and Balaram for their pleasure and then taking bath themselves too.
After this comes the Jhulan Yatra festival. Traditionally many of the deities of the Lord wear various clothing with green in it over this period until the Balaram Purnima.
The monsoon is very humid, and the temperature is still high despite plenty of rain. The joy at this time is to find a cool breeze, as the air is heavy with the humidity of the rains. So the devotees arrange for the pleasure and satisfaction of Krishna and Srimati Radharani by placing them on a swing (Jhulan) and creating their own breeze from the motion.
It is a most pleasing and satisfying festival, with the swings often highly decorated with forest creepers, jasmine (malati) that has newly blossomed in the season, and streamers of garlands. Sometimes they use a fine spray of rose water and direct it toward the Divine Couple on the swing.