Blessingsonthenet Features More Than 600 Festival, Fairs, Fast, State Festivals, Regional Festivals, Festival Recipes, Temple Festival,Festival Gallery (Audio, Video,Photo Gallery) of India.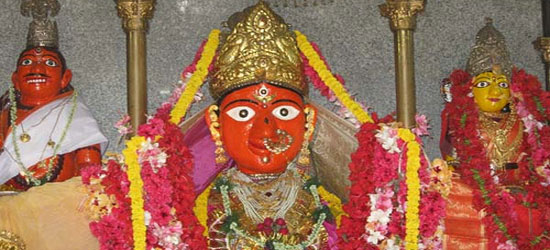 Goddess Shitala is known as the goddess of disease, epidemics and disaster. Fasting on this day and worshipping the Goddess provides protection against small pox and such other havocs.
The Sitala Ashtami fast starts after the worship of Bhagwati on the eighth day (ashtami) of the waning moon (krishna paksh) of Chaitra (March-April).On this day food prepared the previous day which is kept cold till the next day is eaten. The fast terminates at mid day after invoking the Goddess, by consuming stale food. No fresh food is cooked on this day.
A legend justifying the observance of this fast narrates that there were two families, one of a king and other of an ordinary menial. The sons in the two families were infected with small pox.
The menial was a god fearing person, who used to worship Goddess Sitala everyday and religiously observed all precautions suggested to him in the name of the Goddess; which included isolation, not eating fried and hot food. His son soon recovered.
On the other hand, the king made big arrangement with saints, priest performing yagya (sacred fire) cooked and fed many, and gave awy a lot in charity. There was no restrictions on the son in matters of eating and he was allowed anything he wanted.
The condition of King's son deteriorated everyday; ultimately the king sought the opinion of the menial concerned, who advised him the proper precautions, fasting and the worship of Goddess Shitala. The result was a quick recovery.
Sheetala Ashtami is one of the most popular festivals in Rajasthan. Held with most fanfare in Jaipur, Rajasthan.The Sheetala Ashtami is best celebrated in the Chakshu region of Jaipur. Chakshu is like a small hamlet located near Jaipur. This festival is visited by a large number of people as it boasts a unique charm. It is usually celebrated during the spring season. It usually falls in the month of March and creates great deal of excitement among local people. The celebration of Sheetala Ashtami involves carrying out a number of rituals and customs. During the festival the nearby market also boasts a different look altogether. It displays a variety of items like food items, shoes, agricultural implements etc. During the festival, a number of musical events are organized