Blessingsonthenet Features More Than 600 Festival, Fairs, Fast, State Festivals, Regional Festivals, Festival Recipes, Temple Festival,Festival Gallery (Audio, Video,Photo Gallery) of India.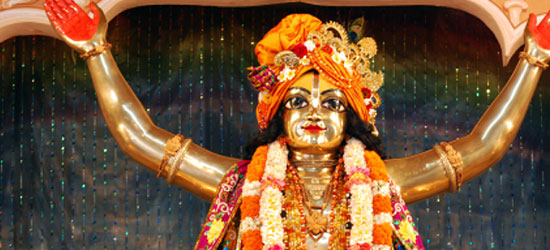 Chaitanya Jayanti is the birth anniversary of Sri Chaitanya Mahaprabhu and it is popularly observed as Gaura Purnima. Sri Krishna Chaitanya Mahaprabhu, also known as Gauranga on account of his golden effulgence, appeared in the land of Nadia, Bengal, to bless the people of this wretched age with the chanting of the divine Names laden with unprecedented amorous love for God, Krishna. His appearance is celebrated annually on the full moon day of the month of Phalgun . Sri Chaitanya Mahaprabhu spread the message of Lord Krishna - he suggested the easiest way to connect with the Lord - just chant Hare Krishna.
Lord Chaitanya taught the philosophy that through the chanting of the holy name of the Lord leads to Moksha. He taught that the holy name of the Lord is the sound incarnation of the Lord and that since the Lord is the absolute whole, there is no difference between His holy name and His transcendental form. Thus by chanting the holy name of the Lord one can directly associate with the Supreme Lord by sound vibration.
Chaitanya Jayanti is of great importance for Hare Krishna devotees and numerous festivals and programs are organized on the day in ISKCON temples.
More on Chaitanya Jayanti