Blessingsonthenet Features More Than 600 Festival, Fairs, Fast, State Festivals, Regional Festivals, Festival Recipes, Temple Festival,Festival Gallery (Audio, Video,Photo Gallery) of India.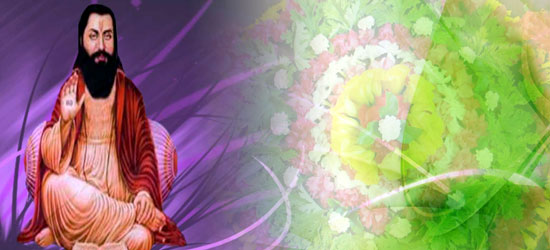 The birthday of Guru Ravidass on February 21st every year is celebrated by the name of Shri Guru Ravidass Jayanti . The annual focal point for Ravidasis (follower of Guru Ravidass). On Guru Ravidass Jayanti there is an Akhand Path read; the Nishan Sahib is changed ceremonially, and there is a special Arti and a Nagar Kirtan procession bearing his portrait taken out to the accompaniment of music through the streets of the temple locality. In Gurdeheras his image is worshipped.

On the occasion of Ravidas Jayanti several processions are taken out and people dress up like Ravidas and his associates. The birthday is celebrated on a huge scale and various programmes remembering the achievements of the great ruler are organized.

Ravi Das, popularly known as Raidas, like Valmiki belonged to a depressed class. He was born on Ravivar (Sunday), in a Harijan family, in a village near Varanasi, and was therefore, named Ravi Das. He was contemporary of another great saint Kabir.
Ravi Das was not very educated but possessed great insight and divine powers. He performed many miracles He spent most of his time in meditation on the banks of the Ganges, in bhajan, kirtan and satsang. The rest of the time he engaged himself in making shoes. Shoe-making was his paternal profession. He composed many beautiful hymns in praise of God.
Like Kabir, Ravi Das also did a lot to bring a social change and reformation by his teachings and bhajans. That was a period of corruption, hyporcisy and religious intolerance. In the name of religion many ill-practices were in vogue. Ravi Das did his best to educate the masses by his own example and teaching. He believed in the essential unity and equality of life and in the tenet of work is worsip.
On Ravi Das Jayanti, a procession bearing his portrait are taken out to the accompaniment of music through the main bazaars and streets of the city and towns. In temples dedicated to Ravi Das, his image is worshipped and prayed. At some places, feasts are also held on this occasion. Ravi Das was a great saint, and he symbolizes social unity and equality. His life and works are an example in nishkam karmayoga, and mutual brotherhood. In Varanasi special celebrations are held on Ravi Das Jayanti
More on Guru Ravidass Jayanti