Blessingsonthenet Features More Than 600 Festival, Fairs, Fast, State Festivals, Regional Festivals, Festival Recipes, Temple Festival,Festival Gallery (Audio, Video,Photo Gallery) of India.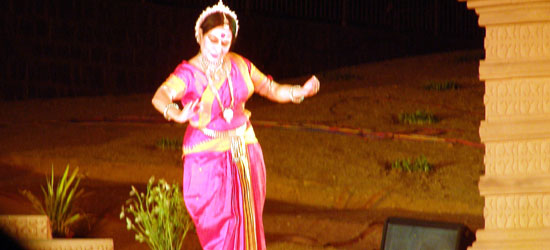 Khajuraho Dance Festival takes place at the open-air auditorium in front of the Chitragupta Temple dedicated to the Sun God and the Vishwanatha Temple dedicated to Lord Shiva. They are situated in the Western Group of temples, which is the largest, well maintained and most easily accessible temple group of Khajuraho .
The Khajuraho Dance Festival is a unique celebration of the best of Indian classical dance, in a spectacular floodlit temple setting in Khajuraho, Central India.
Once the religious capital of Chandela dynasty, one of the powerful Rajput dynasties of Central India, Khajuraho is now famous for it's enchanting temples and it's legendary Khajuraho dance festival. The week- long festival of classical dances is held every year in February/March- ( feb 25 to 2 march) against the spectacular backdrop of the magnificently lit temples. This cultural festival highlights the richness of the various Indian classical dance styles such as Kathak, Bharathanatyam, Odissi, Kuchipudi, Manipuri and Kathakali with performances of some of the best exponents in the field. Modern Indian dance has also been added recently.
The dances are performed in an open-air auditorium, usually in front of the Chitragupta Temple dedicated to Surya (the Sun God) and the Vishwanatha Temple dedicated to Lord Shiva, belonging to the western group.
Along with the renowned performers, a number of craftsmen display their crafts to the visitors. There is an open market where local articles are there for sale. Khajuraho Dance Festival is conducted as a celebration of the cultural heritage of Khajuraho temples and preserving it for the coming generation.
Khajuraho Dance Festival is held every spring in the town of Khajuraho in order to celebrate the glory of the temples. It is believed that classical dance basically comes from the Hindu temples and attained it's maturity. This Festival is a cultural festival for the celebration of the Indian arts- dance and music handling down from generation to generation. The Khajuraho Festival of Dances shows the best classical dancers and dances in the country. It is held during the month of March from 6th to 12th. Different classical dances are presented during this festival, like the -Kathak, Bharatnatyam, Kuchipudi, Odissi, Manipuri etc.
The main idea behind Khajuraho Dance Festival is to make the cultural heritage of Khajuraho relevant to the present society and preserving it for the coming generation. On this occasion a number of renowned artists and craftsmen participates in the workshop and seminar and present their art to the numerous visitors and tourist. And during this seven days festival, there is also a market in an open field where the visitors can get the entire local made articles of Khajuraho. This festival is known not only in our country but also to the outside world at large
The 1000 year old temples at Khajuraho are famed for their exquisitely carved sculptures and the movements of the dancers mirror
More on Khajuraho Dance Festival