Blessingsonthenet Features More Than 600 Festival, Fairs, Fast, State Festivals, Regional Festivals, Festival Recipes, Temple Festival,Festival Gallery (Audio, Video,Photo Gallery) of India.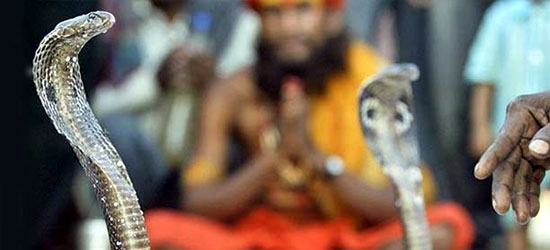 Nag-Panchami is an important all-India festival and is celebrated on the fifth day of the moonlit-fortnight in the month of Shravan (July /August). This is the time when serpents invariably come out of their holes that get inundated with rain-water to seek shelter in gardens and many times in houses .Nag Panchami is the Nag Panchami when snakes, the symbols of energy and prosperity are worshipped. It occurs on the fifth day of the month of snakes.
In Maharashtra, snake charmers go form house to house with dormant cobras ensconced in cane baskets, asking for alms and clothing. Women offer milk and cooked rice to the snakes and gather around to see the snakes spread their hoods.
In South India, particularly in Kerala, snake temples are crowded on this day and worship is offered to stone or metal icons of the cosmic serpent Ananta or Shesha. Also anthills, where snakes are belived to reside, are worshipped by offering milk, vermillion, haldi and flowers.
Celebration of Nag Panchami
Devotees visit temples which are dedicated to snakes to worship them. The temples of Lord Shiva are much preferred as he had a liking for snakes. In South India, snake images are carved out of cow dung and pasted near doors to welcome the snake god. Some of the devotees visit the holes of the anthills since they feel snakes are found in them.
Rituals of Nag Panchami
A five-hood image of the snake is prepared by mixing "gandh"( pigment which is full of fragrance),"chandan" (sandal), halad-kumkum (turmeric powder) and "keshar"(saffron) and then placing it on a plate made of metal and worshipping it. In South India, the images of snakes are made in sandalwood paste that is red on wooden boards. On some parts clay images of snakes are worshiped which is either colored or is completely black.
People worship snakes to ward of evil and to seek protection from calamities. Nag Panchami is a festival of snakes.