Blessingsonthenet Features More Than 600 Festival, Fairs, Fast, State Festivals, Regional Festivals, Festival Recipes, Temple Festival,Festival Gallery (Audio, Video,Photo Gallery) of India.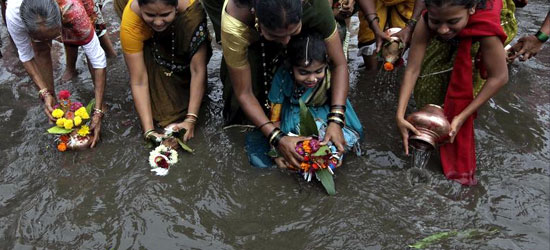 Coconut Day festival or Narali Purnima takes place in Maharasthra & Kerala. It is celebrated mostly by the fishing community who offer their prayers for their safety to the sun-god Varuna.
On the full moon day of Sravan is celebrated the Narli Purnima to appease the fury of the Sea-god Narli Purnima. It also marks the end of monsoon, and is primarily observed by sailors, fishermen and others living in the coastal areas of South India. They offer coconut to the sea on this occasion. If the sea happens to be far away, people go to some nearby tank, pool, river or some other source of water and offer coconut.A coconut has three eyes. It is said to represent Lord Shiva, the three eyed God. Coconut is considered to be an auspicious offering to Gods. A coconut is broken in front of the deities before taking up a new venture to seek blessings and on successful comlition for thanks giving. Coconut is important for all religious occasions. Thus coconut is considered to be an ideal offering to the Sea God as well.
Fishermen and fishing community in Maharashtra celebrates the Nariyal Purnima or the Coconut Festival in a jubilant manner. On the day of Narial Festival, fishermen of Maharashtra worship Samudra (Sea God) and Varuna Deva (Rain God). Coconuts are offered to the Sea God. After the Puja, fishing is started. They perform the pooja to the Sea God to protect them from natural calamities. Narali Poornima marks the monsoon season and represents the beginning of new fishing period.

Pieces of coconut and coconut are distributed as 'prasad'. Coconut rice is the main dish on this day