Blessingsonthenet Features More Than 600 Festival, Fairs, Fast, State Festivals, Regional Festivals, Festival Recipes, Temple Festival,Festival Gallery (Audio, Video,Photo Gallery) of India.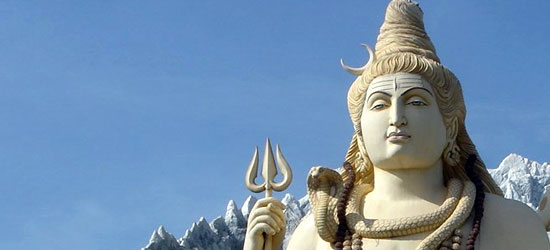 Festival of Mahashivaratri is the most important festival for the millions of devotees of Lord Shiva.Lord Shiv is Mukteswar (one who gives liberation) and Papkateswar (reliever of sins). He is Ashutos (quickly and easy to please) and Abdar Dani (bestower of boons). On account of these attributes, people worship him throughout life and especially on the night of Maha Shivaratri, which is celebrated on the night prior to the no moon day (Amavasya) in the month of Magh-Phalgun (February-March).
When almost all other festivals are celebrated in day time, Mahashivaratri is celebrated in the night. Shiv it is saved the world from Tamogun (darkness and ignorance). Shiv is known as Har because he defleced the submersion of the universe into complete darkness. Snakes, lions, peacocks and bulls shown along with Shiva's images symbolize freedom from evil exhibiting fearlessness. So on the night prior to Amavasya, Shiv is specially worshipped to drive away the dark evil.
Worship
Lord Shiv has no bodily form, only the celestial form. One can only meet his grace, when one does not imagine him as a worldly figure and when one sees him from eye of the soul-the conscience.
On Shivratri, Shiv is worshipped in the form of Lingodbhavamurti, the pillar of fire that appears to span the nether world and the sky, but has indeed neither a beginning nor an end.
Linga means sign, also smoke. It denotes a manifestation of that which is not manifested, a form of the formless, a hint and glimpse of the unknown and the unknowable. It is a scrawl made by an artist to portray that which cannot be protrayed even on a canvas as big and large as the heavens, a blind sculptor's grouping towards an all encompassing truth.
Even the Gods cannot comprehend Lingodbhavamurti. Vishnu, who reposes on the coils of Ananta (snake), is awestruck by the fiery manifestation. On an impulse, he frees himself from the embraces of Lakshmi, rides his boar and goes out looking for the origin of the pillar of fire. Down, down he goes, into the bowels of space, many worlds below the earth. But he fails in his quest.
Brahma, who is seated on the lotus, sprung from the naval of Vishnu, goes on a similar adventure riding his Hamsa (swan), the divine gander. He soars into the sky, beyond the clouds, beyond the world of Gandharvas, beyond Dhruva and Saptrishi. But he fails to discover the crown of Lingodbhava. The Gods, too cannot know that, which has neither a beginning nor an end.
On Shivaratri, the worship of Lingodbhavamurti is carried out with Bilva leaves, heaps of bilva gathered from quince trees tended with godly respect and affection.