The most fundamental of Hindu deities, is the Trinity of Brahma, Vishnu and Shiva - popular deities include Ganesha, Krishna, Hanuman and goddesses like Lakshmi, Durga,Saraswati.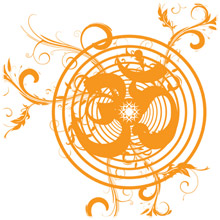 Appearance of Goddess Lakshmi
Physically, goddess Lakshmi is described as a fair lady, with four arms, seated on a lotus, dressed in fine garments and precious jewels. Her expression is always calm and loving. The most striking feature of the iconography of Lakshmi is her persistent association with the lotus. The meaning of the lotus in relation to Shri-Lakshmi refers to purity and spiritual power. Rooted in the mud but blossoming above the water, completely uncontaminated by the mud, the lotus represents spiritual perfection and authority. Furthermore, the lotus seat is a common motif in Hindu iconography.