The most fundamental of Hindu deities, is the Trinity of Brahma, Vishnu and Shiva - popular deities include Ganesha, Krishna, Hanuman and goddesses like Lakshmi, Durga,Saraswati.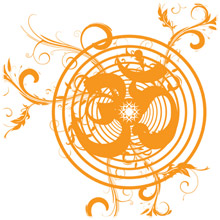 Temples of Lord Dattatreya
Important Dattatreya temples in india include Suchindram, Senthamangalam, Mount Girnar, Nagalapuram in Andhra, Prayag, Datta Guha in the Himalayas, Gulbarga -Ganagapura, Narasimhavadi in Maharastra, Quthambara near Poona, Avadumbara, Somapuram, Chandradronagiri and Datta Peetha at Sri Ganapathi Sachchidananda Ashrama, Mysore.
Datta Temple Pune :
Datta Mandir Pune is placed in a very busy locality in the city area of Budhwar Peth on the famous Laxmi Road as well as near the Mahata Phule market which is popularly known as Mandai. Whoever comes in the city-post area stops at this temple for Darshan.
This temple is not only ancient but also unique one as it faces North direction. As per the Vastushastra, North direction is always considered to be the direction of Kubera and the God which is facing North gives blessings to the devotees from that direction.

Datta Temple Gangnapur-
Sri Kshetra Gangapur, One of the most famous Dattatreya
Temples , is associated with Sri Narasimha Sarasvati Swami, an
incarnation of Lord Dattatreya. It stands on the bank of the river Bhima in Afzalpur taluka in Gulbarga district of Karnataka. This Nirguna Math is adorned with the Nirguna Padukas. The water of the rivers Bhima and Amaraja, especially at the spot of their confluence, are considered extremely holy. " Bhima-Amarja Sangam at Gangapur is very sacred. There are Koti Theerthas there. The Aswatha Tree at Gangapur is as powerful as tha KalpaVriksha. Near the Aswatha Tree is Narasimha Teertha, and northwards to it are the PapaVinasini Teertha, Varanasi Teertha, Rudrapada Teertha, Chakra Teertha, Koti Teertha, manmadha Teertha etc. There is the Kalleshwara temple there. It is holy as Gokarna.", Sri Narasimha Saraswati lived in Gangapur continuously for a period of 24 years ,
Narsobawadi Datta Temple- Maharashtra
The Shri Narasimha Saraswati Swami Dattadeva temple is situated at Narsimhawadi, Kolhapur in Maharashtra. Shri Narsimha Saraswati worked for the upliftment of the poor going about from place to place. Wherever he left his padukas holy sandals behind, those areas became places of worship for the devotees. Narsinhawadi is one of these blessed lands. It is said that Shri Dattadeva himself reigns over this land to help alleviate all kinds of suffering, especially including possesion by spirits, and worldly troubles of his devotees. Thus it is considered to be a jagrut land, a land that is blessed with his presence even today.