The most fundamental of Hindu deities, is the Trinity of Brahma, Vishnu and Shiva - popular deities include Ganesha, Krishna, Hanuman and goddesses like Lakshmi, Durga,Saraswati.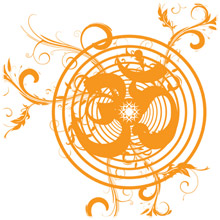 Once King Kartavirya Arjuna (Sahasrarjuna) and his army visited Jamadagni, a brahmin sage, who fed his guest and the whole army with his divine cow Surabhi; the king demanded the magical cow and Jamadagni refused because he needed the cow for his religious ceremonies. King Kartavirya Arjuna (Sahasrarjuna) sent his soldiers to take the cow and Parashurama killed the entire army and the king with his axe. In return, the princes beheaded Jamadagni the father of Parshuram.
When Parashurama returned home he found his mother crying hysterically. He asked why she was crying, she beat her chest 21 times. In a rage, Parashurama vowed to exterminate the world's Kshatriyas 21 times. He killed the entire clan of Kartavirya Arjuna (Sahasrarjuna), thus conquering the entire earth. He offered his dead father's soul tarpana with the blood of the kings and warriors he slew. He then conducted the Ashwamedha sacrifice, done only by sovereign kings, and gave the entire land he owned to the priests who performed at the yagya.
There are several legends regarding Baghwan Parshuram with Lord Shiva and Lord Ram .