The most fundamental of Hindu deities, is the Trinity of Brahma, Vishnu and Shiva - popular deities include Ganesha, Krishna, Hanuman and goddesses like Lakshmi, Durga,Saraswati.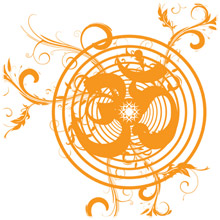 Undoubtedly, Ramayana is the greatest and most popular epic and human testament. The so huge Rama-katha literature in so many languages speaks volumes of its genial, abiding and deep influence on millions and millions of people in India and deep influence on millions and millions of people in India and the whole of the southeast Asia. Its clear and loud message of ultimate victory of good over evil is universal which cuts across all kings of imaginable boundaries. Every man and woman familiar with Rama-katha aspires to be Rama or Sita.

Possessed of the divine inspiration the sage-poet Valmiki composed the poem many centuries ago. Since then it has been read, recited and enacted in Indian Sub-continent and almost all over SouthEast Asia. For many centuries it was handed down by word of mouth from one generation to another till it was written down.

The present volume, primarily ment for the young readers, presents the Rama-story in its bare essentials. It is the best book on morals,human values and ideals that can be placed with much hope and confidence before our adole-scents and young ones. I hope it will inspire them to be more righteous, honest, dutiful and a real repository of what is the best in Indian thought and culture. It is not a religious book in a ordinary of sectarian sense. As such it the most secular book that has ever been created.