Blessingsonthenet.com culture section features various aspects of India culture, indian philosophy ,puja & rituals, customs, traditions, ceremonies, arts, dance, music, architecture,Hindu Mythology, god and goddesses, Sanint and sages and Indian rivers.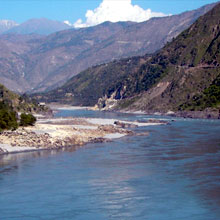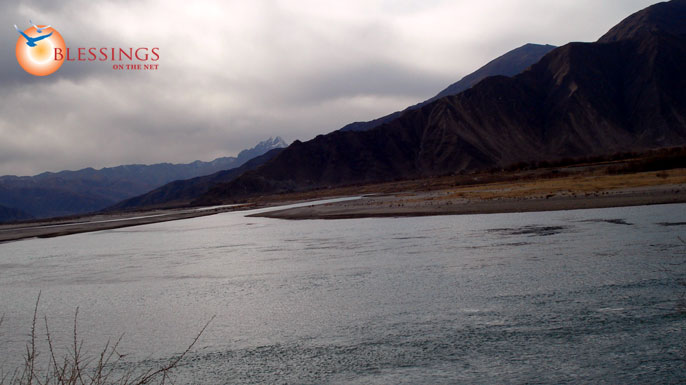 Brahmaputra is the biggest of the Indian rivers, even bigger than the Ganga. Brahmaputra is regarded as one of the great rivers of southern Asia (1,800 mi) long. In Sanskrit, it means "son of Brahma .The frothy blue waters of the Brahmaputra descending through the beautiful snow-clad mountains of the Himalayas present a remarkable sight. Brahmaputra is the biggest of the Indian rivers, even bigger than the Ganga.

The course of the river Brahmaputra is very interesting. At the foot of Mount Kailash, nearly 5,100 metres above sea level, there is a great glacier from which flows a river called the Tsang Po or the purifier. It flows down the Himalayan Mountains with tremendous force and finally enters India. Here the Tsang Po, after crossing the frontier at Saudiya into the Assam valley becomes the Brahmaputra.

The Brahmaputra flows down the Assam valley for nearly 720 kms. frequently changing its course and moving about in a bed nearly 9.6 kms. wide. The river Brahmaputra, from its source near Manasarovar to its mouth at the Bay of Bengal is actually 400 kms. longer than the Ganga. The greater part of its course however lies outside India, in Tibet and Bangladesh.

The river Brahmaputra after entering the hills of Assam flows past the town of Dibrugarh from where it runs to Guwahati. Here lies a very ancient place of pilgrimage, the temple of goddess Kamakhya on a hill. The river then passes through Umananda Bhairab, with its granite foundations rising from the lap of the river. The river then reaches Pandughat, close to which lies the hill station of Shillong. The river then flows through various towns, chief of them being Palasbari, Goal Para, Dhubri and Chilmari.

After Chilmari, the Brahmaputra flows past the town of Goalundo. It is here that the river Ganga joins it to form the river Padma. From here it flows towards the river port of Barisal and then to Khulna. The river then flows towards Calcutta and then finally empties itself in the Bay of Bengal.

The river Brahmaputra drains a vast area of nearly 9,36,800 sq. kms. It is a river of immense importance and navigable from the Bay of Bengal to Assam, a distance of nearly 1,280 kms. It is a splendid waterway for commerce and travel.

Like all other Indian rivers, the Brahmaputra is worshipped for its waters by the people who live on its banks. There are many places of worship all along the length of the river. However, the chief among them is Manasarovar at its source and the temple of Kamakhya Devi near the hills of Guwahati.