Blessingsonthenet.com culture section features various aspects of India culture, indian philosophy ,puja & rituals, customs, traditions, ceremonies, arts, dance, music, architecture,Hindu Mythology, god and goddesses, Sanint and sages and Indian rivers.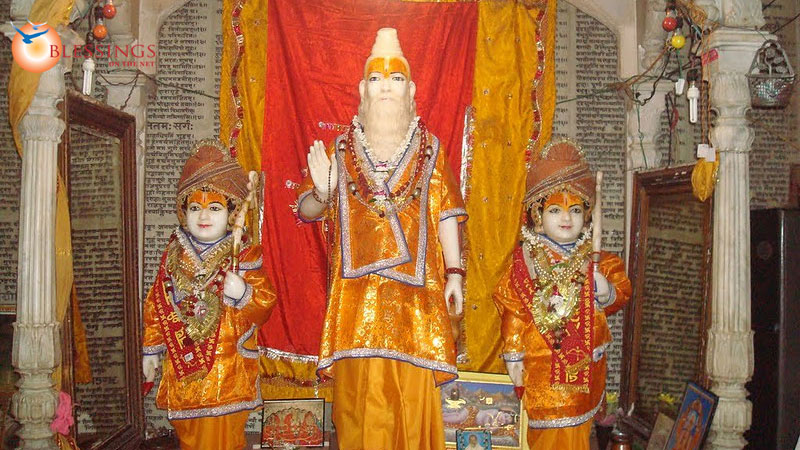 Vishwamitra has been considered to be one of the most important Saints of the Vedic period and is counted as one of the Saptarishis. He was a symbol of strength and power. Before being a Saint, he was a loyal and devoted King. Vishwamitra belonged to a royal family and was born as a son to King Gadhi. Other Kings of his family included Prajapati, Kush, Kushnabh.
Saint Vishwamitra has always been famous for his respect. He became a Saint from a King because of his skill and knowledge. He acquired a place among the Saptarishis and was worshipped by Devas and other Saints. He wrote a lot of Mantras and is also called Mantradrashta.
Rise to Brahmarishi
Vishwamitra acquired the position of a Brahmarishi through extreme devotion, dedication, austerities and skills. He started offering austerities to Lord Brahma. Many people were amazed seeing his dedication and tried to create many problems. Vishwamitra overcame all these obstacles and went on with his austerities.
When Vishwamitra decided to take a break to eat his food, Lord Indra disguised himself as a Saint and asked for food. Vishwamitra gave away his food and went on with his Tapasya.
Seeing this, Lord Indra told Lord Brahma that Vishwamitra had achieved prime state of devotion and was free of all attachments and desires. He asked Lord Brahma to fulfil Vishwamitra's wishes. Lord Brahma thus provided Vishwamitra with knowledge, Vedas etc and made him a Brahmana.
Vishwamitra in Religious Scripture
Vishwamitra was a great scholar and Saint. Seeing him motivates everyone and nothing seems impossible. Vishwamitra is a symbol of the Indian Puranas. He led his dynasty as a leader and then lived a life of a Saint. He became a Brahmana from a Kshatriya.
Vishwamitra has been talked about in various mythological texts including Puranas, Mahabharata and Ramayana. Vishwamitra was the one to write the Gayatri mantra. He had immense knowledge about mantras and Upanishads. Other works by Vishwamitra include Vishwamitrakalpa, Vishwamitrasanhita, Vishwamitrasmriti etc.
Biography of Vishwamitra
Vishwamitra's life was a mix of interesting events. Many important events were related with his life like his struggle with Vashishta for Nandini. Once Vishwamitra stayed in Vashishta's asylum while returning after winning a battle. He was impressed by Kamdhenu and asked Vashishta to give it to him. When Saint Vashishta refused him, Vishwamitra tried to forcefully take the cow.
Kamdhenu ends Vishwamitra's army after taking permission from Vashishta. She did so when she came to know that Vishwamitra was forcefully taking her with him.
Saint Vashishta even killed Vishwamitra's hundred sons. Vishwamitra was disappointed and disrespected and handed over his kingdom to his left son. He then offered austerities to Lord Shiva. Lord Shiva provided him with all the necessary weapons etc. He again fought with Saint Vashishta but was defeated. He then offered austerities to Lord Brahma.
Lord Brahma told Vishwamitra that he was impressed but Vishwamitra said that he would only want to be called a Brahmana if Saint Vashishta accepted it. All Devas went to Saint Vashishta and told him about Vishwamitra's austerities. Saint Vashishta went to Vishwamitra and told him that he accepted that Vishwamitra was a Brahmana. Many other stories about Vishwamitra have also been famous. Some are about his meeting with Lord Ram and killing demons, Menaka disrupting her Tapasya and sending Trishunk to heaven.