Blessingsonthenet.com culture section features various aspects of India culture, indian philosophy ,puja & rituals, customs, traditions, ceremonies, arts, dance, music, architecture,Hindu Mythology, god and goddesses, Sanint and sages and Indian rivers.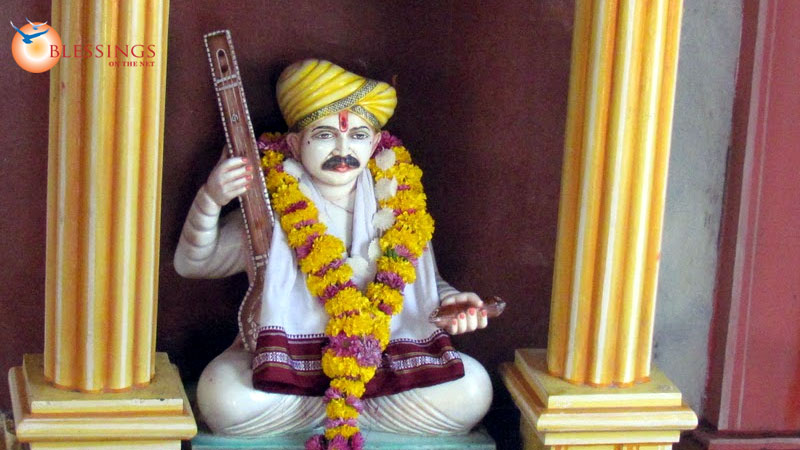 Tukaram was one of the greatest poet saints ever born in India. It is quite renowned for his contribution to the Bhakti Movement of Maharashtra .Santa Tukaram was born at Dehu in the Pune district in the year 1608 (Shalivahan Shake 1530), on Vasant Panchami.His father was Kolhoba and mother, Kanakai. The couple had two other son, Sawaji who was elder to Tukaram and Kanhoba, the younger brother. Sawaji was totally detached and not interested in the family. Therefore, all responsibility of the family fell on Tukoba. Tukoba's first wife was asthmatic and died early. As per the prevalent practice, he remarried to Jijai (alias Awadi), daughter of Appaji Gulave from Pune.
Tukobarai had a very difficult family life. He encountered a number of adversities. He lost both his parents when he was only 17-18 years old. His elder brother left for pilgrimage, renouncing everything. Tukaram also lost his wife. Around the same time, he had to face the worst famine, during which his elder son, Santu, died of starvation. Most of his livestock also fell prey to the drought. Conditions were so bad that there was no revenue from the land. Tukaram became depressed and lost interest in the worldly concerns. These circumstances strengthened his faith in the Lord Vitthal and he started penance on the Bhandara hill near Dehu. It was during this penance that he attained realisation.
From then onwards, his life was solely given to express consistent, unending and infinite faith and devotion to lord Vitthal, not only from his heart but also by his words, his actions and literature. The annual pilgrimage to Pandharpur and worship the idol of Lord Vitthal became his only important ritual. This was his dictum which shows the importance of Pandharpur and lord Vitthal in his life.
Saint Tukaram was also a scholar of the scriptures like Vedas and Bhagwad-Geeta, Bhagwat, Dnyaneshwari and Purana. His compositions are in simple, chaste Marathi. His self-knowledge based on the hard test of renunciation is very clearly evident from his Abhangawani (the language of Abhanga). In his compositions, he praises virtuous saints and bluntly criticizes heretics and hypocritical persons. He describes formulae to live life with the ultimate truth in mind. Even a single line in his Abhanga is full of deep meaning. For example,
Je ka ranjale ganjale | Tyansi mhane jo apule ||
Tochi Sadhu olakhawa | Deo tethechi janawa ||
(Revere a person as God, who loves the harassed and poor people as his own kin!)
Santanchiye gavi premacha sukal | Nahi talamal, dukkhaKlesh ||
(Where the saints live there is only love and no place for hate and jealousy)
Tuka mhane tochi santa | Soshi jagache aghata ||
(Tuka says the person who suffers at the hands of evil people without complains is the true saint)