Blessingsonthenet.com culture section features various aspects of India culture, indian philosophy ,puja & rituals, customs, traditions, ceremonies, arts, dance, music, architecture,Hindu Mythology, god and goddesses, Sanint and sages and Indian rivers.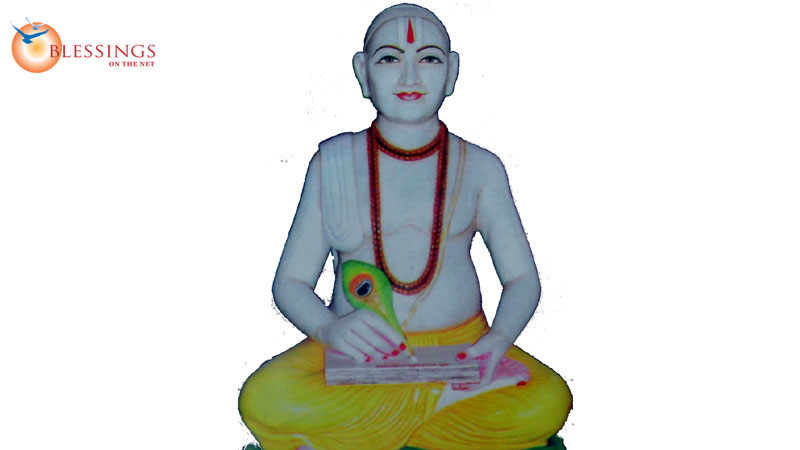 Goswami Tulsidas was a great devotee of Lord Ramachandra (Lord Rama) who appeared in India in the 16th century. A true saint, he is best known for the books that he authored, the most famous of which was the Ramacharitamanasa. Tulsidas is considered to be one of the greatest of the Hindu saints of India. He is is considered to be one of the most famous representatives of the Bhakti school of Hinduism.
Details of his early life are life are a bit sketch. Some say that he was born in 1589, while others say that it was in 1532. There is however, an agreement that he was born in Rajpur India, in present day Uttar Pradesh. He was born to Atmaram Shukla Dube and his wife Hulsi. As a youngster, his name was Tulsiram and or Ram Bola.
His introduction into the principals of the bhakti school came when Tulsidas was a young boy in Sukar-Khet. There he heard the story of Rama, which would form the basis for much of his later literary work. This was from Narhari Das who was a very influential saint.
Tulsidas' family life was not unusual. As is the custom, he lived for a time as a householder, and assumed the normal duties of raising and supporting a family. He was married to a woman by the name of Buddhimati (Ratnavali). She bore him a son by the name of Tarak.
However his life as a householder was to be short-lived. He left home and took sanyas (the life of a renunciate). For the next 14 years he visitied various pilgrimage places. Afterwords he settled down and started an ashram where he taught, and composed his literary works.
His literary work was most impressive. He was a Sanskrit scholar, but he is known for his works in Awadhi (A dialect of Hindi). He his particularly known for his "Tulsi-Krita Ramayan", this is also known as "Ramacharitamanasa". He is also well known for his "Hanuman Chalisa". In all, he composed 22 major literary works in his lifetime.
He died about 1623 in Asighat in Varanasi (Benares).