Blessingsonthenet.com culture section features various aspects of India culture, indian philosophy ,puja & rituals, customs, traditions, ceremonies, arts, dance, music, architecture,Hindu Mythology, god and goddesses, Sanint and sages and Indian rivers.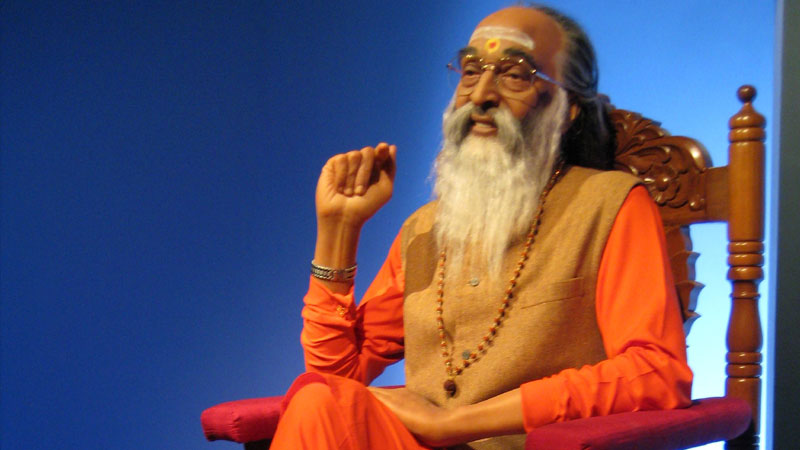 Swami Chinmayananda was born as Balakrishna Menon (Balan) in Ernakulam district of Kerala, in 1916. He completed his graduation from the Lucknow University and thereafter entered the field of journalism.e Like many of the highly learned youths who find themselves in a dilemma as to what to do with life when they come out of the universities, Balakrishnan too was assailed by doubts with conflicting ideologies. But providence guided him properly; he studied the great works of Swami Vivekananda, Aurobindo and others, and found his way to his Master, Swami Sivananda.
Meeting Swami Sivananda at Rishikesh proved to be a turning point in the life of Balakrishna. He developed an interest in the path of spirituality. It was under Swami Sivananda only that Balakrishna took Sanyas (asceticism) and became Swami Chinmayananda. Seeing the enormous untapped potential of Swami Chinmayananda, Swami Sivananda sent him to study under Swami Tapovan Maharaj in the Himalayas.
Swami Sivanandaji Maharaj knew that he was an exceptionally gifted person and entrusted him with conducting a Gita Committee, as Gurudev called it, which consisted of some members,-the members being Sri Balakrishna Menon (Swami Chinmayananda), Swami Krishnananda, a very learned philosopher from Bihar called Sri Nanda Kishore Srivastava, etc. He used to conduct classes in the Ashram, now and then.
He was ordained into Sannyasa by Sri Gurudev on 25th February, 1949 to pursue further studies of scriptures under Swami Tapovanamji Maharaj, in Uttarakashi where he stayed with the great Master studying Panchadasi and other Vedanta Texts as well as Upanishads.
Having mastered these texts, Swami Chinmayananda started his own Jnana Yajna Mission and moved from corner to corner of India conducting Gita Yajna classes, Upanishad classes and discourses on the scriptures, which earned him great reputation as an extraordinary orator and a masterly exponent of India's culture, its literary heritage and scriptural lore. Swami Chinmayananda has also travelled to the West many a time. He has Centres in various places in India and also abroad.

Swami Chinmayananda was selected as the President of Hindu Religion by the Hindu Host Committee in the year 1993. The honor was given to him at the Meeting of the Parliament of World Religions in Chicago. He was also honored for serving humanity selflessly throughout his life at "World Vision 2000," a conference of religious leaders. Swami Chinmayananda left this world on August 3, 1993 to become one with the Supreme Lord. He died in San Diego, California.
Chinmayananda Mission
Chinmayananda Mission was founded with an aim, to bring the timeless knowledge of Vedanta closer to people. At the same time, it teaches them to way to attain spiritual growth and contentment.