Blessingsonthenet Features More Than 600 Festival, Fairs, Fast, State Festivals, Regional Festivals, Festival Recipes, Temple Festival,Festival Gallery (Audio, Video,Photo Gallery) of India.
Modak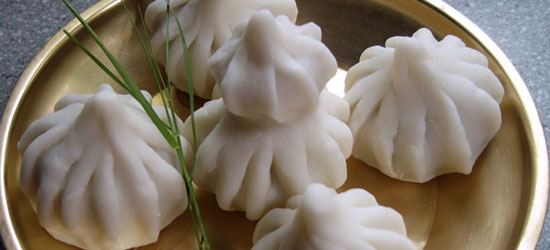 Modak is a ritual sweet dish, specially prepared on the day of Ganeshchaturthi which lasts for 10 days. For all these ten days, every day a special sweet dish is prepared in offering to the god and then distributed as `prasad' to the members of the family and friends. Ganeshchaturthi is the first day on which Modaks are prepared. All the same, they can be prepared any day as sweet dish for the family.
Method
Bring the water to a boil and add oil into it for the outer covering. Take off heat.
Now add the rice flour, little by little to avoid lumps and cover the mixture and let it cool.
When cool, knead it well into dough with a smooth finish in such a way that it should sparkle.
Now take the coconut and Jaggery / sugar in a heavy-bottomed pan for the stuffing. Add milk. Keep on low flame with stirring. Stir and take off heat.
The mixture should be fairly dry and turn a shade darker. Now make balls with the (covering) dough.
Flatten them on the palm or on a surface into a circle. Place the stuffing in it and cover it completely with the dough.
Fold the edges tapering to the centre. Now steam-cook the modaks in a cooker for 15 minutes until done.
Ingredients
3 cups Rice Flour
6 cups Water
6 tsp Oil
4 cups Grated Coconut
2 cups Sugar or Powdered Jaggery
A little Milk