Blessingsonthenet Features More Than 600 Festival, Fairs, Fast, State Festivals, Regional Festivals, Festival Recipes, Temple Festival,Festival Gallery (Audio, Video,Photo Gallery) of India.
Coconut Potali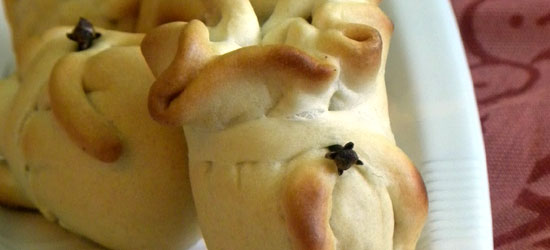 Coconut Potali is a sweet dish made in maharashtra on the eve of Haritalika tritiya and offered to Goddess Gauri as a prasad .
Method
Grind rice and 1 cup grated coconut finely. Add salt and kep aside.
Mix the remaining coconut and jaggery, and cook till they blend well with each other. Add cardamom powder.
Cut banana leaves into about 15 cms squares. If using turmeric leaves, keep them whole. Smear each leaf with ghee and spread 1 spoon of rice batter on it. Place 1 spoon of coconut-jaggery mixture in the centre and fold the leaf over itself. Prepare all raw potalis in this manner.
Steam batches of raw patolis in a steamer.
Open up the jacket of the leaf, and serve hot with ghee.
Ingredients
Ingridents required to make Coconut Potali :
2 ½ cups grated coconut
1 ½ cups jaggery, grated
Fresh banana or turmeric leaves
1 cup rice, soaked in water, drain dry
1 tbsp clarified butter (ghee)
1 tbsp cardamom powder
a pinch of salt