Blessingsonthenet Features More Than 600 Festival, Fairs, Fast, State Festivals, Regional Festivals, Festival Recipes, Temple Festival,Festival Gallery (Audio, Video,Photo Gallery) of India.
Erissery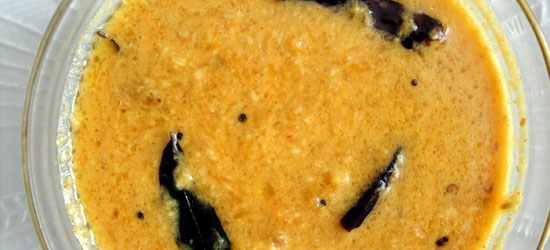 Erissery is a delicacy popularly prepared during festival of Vishu.
Erissery is a popular dish in Kerala,a variety of erisseris can be prepared by substituting different vegetables,pulses or a combination of vegetables and pulses.In some parts of Kerala,Erisseri is even served in traditional Sadyas.
Method
Method to make Erissert :
1. Boil the pumpkin in 1/4 cup water with salt and turmeric, until soft. This should take about 7 to 10 mins.
2. Grind coconut, green chillies and jeera to a paste with requred amount of water. Add this to the cooked pumpkin and keep fire on sim. Adjust water if the curry is too thick at this stage. Add spoonfuls at a time so that it doesn't get too watery. If curry is too watery, then let it boil or add 1 tsp of rice flour mixed in 2 tsp water. Cook until desired consistency is reached, add salt and keep aside.
3. Heat oil in a pan and add the mustard seeds. When they pop, add the urad dal, shallots and red chillies. Fry until the dal turns golden brown and the shallots turn transparent. Tear curry leaves and add to this. Mix well and pour directly over the cooked pumpkin curry.
4. In the same pan, add the 4 tbsp coconut and fry on low heat till crispy and golden brown. Mix this into the curry and serve with steamed rice and pickles. Adding the fried coconut in the end is very important for the flavour of the curry so don't skip this step!
Ingredients
Ingridents required to make Erissery L
Pumpkin / mathanga - 3 cups, peeled and cut into 1" cubes
Grated coconut - 1/2 cup (fresh works best but you can use frozen too)
Cumin / jeera / jeerakam - 1 tsp
Green chillies - 2, or to taste
Turmeric powder - 1/4 tsp
For tempering
Mustard seeds - 1/4 tsp
Urad dal - 1 tsp
Grated coconut - 4 tbsp
Shallots - 3, sliced
Red chillies - 3
Curry leaves - a few
Coconut oil - 2 tsp (or any other oil you have)