Blessingsonthenet Features More Than 600 Festival, Fairs, Fast, State Festivals, Regional Festivals, Festival Recipes, Temple Festival,Festival Gallery (Audio, Video,Photo Gallery) of India.
Fish Kalia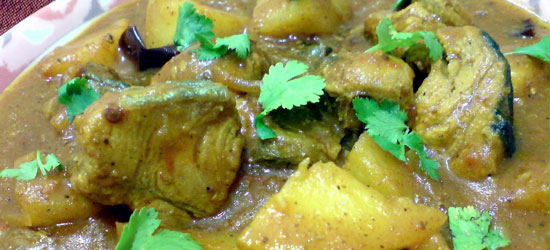 Fish Kalia is a gravy based dish usually made with fish like Rui(Rohu) or Katla, it is not very rich but sufficiently spicy. This is appropriate for both lunch and dinner and is also popular as a dish that a Bengali family would serve their guests on special occasions like Durga Puja .
Method
Method of making fish kalia :
Marinate the pieces of the fish in haldi powder and salt for few minutes
Then fry it lightly in mustard oil and keep it aside
Fry the chopped onion with teipata till the onion becomes golden brown
Lightly fry the ginger garlic paste with the onion in low flame (add one pinch of salt) otherwise the ginger will be over fried and become bitter
Add yogurt to it
Add 2 cups of water to it with a half spoon of haldi powder
Add salt according to taste and keep full flame
When the water start boiling adds the fried fishes to it and keeps it in full flame for 5 minutes
When the gravy become thick then add 3/4 crystals of sugar and turn off the flame
Rohu kalia is prepared and enjoy it with plain rice .
Ingredients
Ingridents required to make fish kalia :
500 Gm of dressed Rohu fish (kata pona-scaled off)
50 Gm of yogurt
2 medium sized onion (chopped finely)
2 spoonful of ginger garlic paste
2 medium sized potato, halved