Blessingsonthenet Features More Than 600 Festival, Fairs, Fast, State Festivals, Regional Festivals, Festival Recipes, Temple Festival,Festival Gallery (Audio, Video,Photo Gallery) of India.
Fish Paturi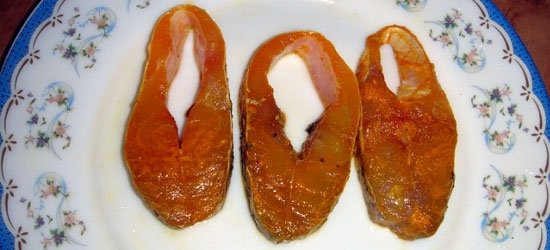 Fish Paturi is one of the many mouth watering fish recipes from Kolkata. Bengalis are known for their preference for fish on their menu. Cooking fish paturi is easy and you can serve it at family gatherings and festive occasions.
Different types of fishes are used for making fish paturi. You can try fish paturi with sea bass, cat fish, salmon, grass carp or halibut. The fish must be cut into small 2X2 inch squares. This is also made on special occasions like Durga puja.
Method
Method to make fish paturi :
Wash and dry the Fish Steak, cut into 8 to 10 pieces, keep aside
In a Blender add Mustard seeds, coconut, greens chillies and a pinch of salt
Make it a smooth paste by adding little water from time to time
Add sugar, turmeric powder and lime juice to it
Add salt as required and finally make a smooth marinade
Dip the Fish pieces into the marinade and rub them with fingers
Leave the marinated Fish for 30 minutes in room temperature or 2 hours in refrigerator
Once the marination is done, now pour in the mustard oil to it and mix it well
Now cut the Banana Leaf into 8 inches square
Take the Banana Leaf in a platter glossy side up, rub little mustard oil to it
Place a piece of Fish at the center and add some marinade on it
Place one green chilli on top of it
Fold the leaf from each side and make it a square parcel
Wrap it with the thread so that it doesn't open while cooking
Wrap rest of the fish pieces and make a parcel for each of them
Now heat water in a steamer
Add the parcels into the steaming rack or basket
Steam the parcels for 10 minutes
Remove from steamer, discard the threads from the parcels
Serve piping hot with steamed rice
Tip: Paturi can also be done instead of steaming, by shallow frying the parcels on a hot Tawa
Ingredients
Ingridents required for making fish paturi :
Ingredients:
500 gms White Fish steak (Ideally Bhetki- Lates Calcarifer, if not available use the Basa)
2 Tablespoon Dark mustard seeds soaked in little warm water
1 Tablespoon Light mustard seeds soaked in little warm water
½ Coconut (Fresh)
4- 8 Green Chillies (use it as per desired hotness of the dish)
1 Teaspoon Turmeric Powder
1 Teaspoon fresh juice of lime (can be substituted with a pinch of Aaam Chur)
1 Teaspoon Sugar
Salt to taste
1 Tablespoon Mustard Oil (Do not substitute Mustard Oil with any other oil)
Whole 8-10 green chillies to put inside the parcel (optional)
1 Full size Banana Leaf (ideally a tender one)
Threads for wrapping