Blessingsonthenet Features More Than 600 Festival, Fairs, Fast, State Festivals, Regional Festivals, Festival Recipes, Temple Festival,Festival Gallery (Audio, Video,Photo Gallery) of India.
Gajar Ka Halwa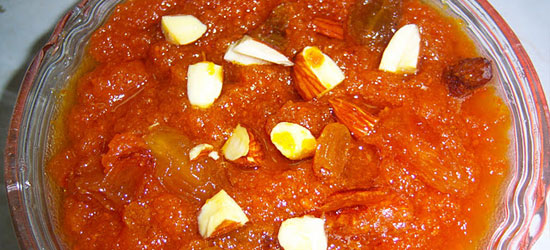 Gajar halwa is the most delicious of all sweets.When we talk about Indian desserts, one name that undoubtedly comes into every person's mind is the traditional Gajar ka halwa prepared on every Indian home in almost all the festivals. Gajar Ka Halwa as prasad to Lord Rama. On the occasion of Diwali, Gajar ka Halwa is an unavoidable part of the menu. When served hot, the Gajar Ka Halwa tastes wonderful.Gajar ka halwa is very eay to make as compared to other types of halwa. Gajar ka Halwa has also other name in punjab Gajrela and one of the favourits dessert in winter and festival of Baisakhi and offerd as prasad to Guru Nanak.
Halwa is a generic term. There are a dozen prefixes you can add to it, and produce a dozen different varieties of halwa. Even among the popular, translucent, variously coloured version, there are nuances that stamp the halwa with the name of the place where the particular procedure is followed.
The one common feature perhaps lies in the cooking - all the halwas need to be stirred constantly. A minute's break could produce dry, lumpy masses. Overcook, and you could have a rocky and sticky mass that sticks to the teeth. Prepared well, though, the halwa becomes a soft confection that melts in the mouth. Is it any wonder, then, that halwas are one of the morepopular sweets you find all over India.
Method
Method of making Gajar Ka Halwa :

Mix khoya and coconut and fry them lightly with ghee on a low heat.
Add cardamom and mix well.
Prepare one-string syrup by dissolving sugar in the water.
Now stir the coconut mixture into the syrup.
Grease the plate and spread the grated nuts on it.
Spread the prepared evenly over the plate and allow it to cool.
Now with the knife, cut it into desired shapes.
Turn them over so that nuts covered part appears on the top.
Nariyal ki burfi is ready to be served.
Ingredients
Ingridents required to make Gajar Ka halwa :
1 kg Carrots
1 litre Milk
1 teaspoon Cardamom seeds
3/4 cup Water
3 tablespoons Ghee
2 tablespoons Raisins
2 tablespoons Almonds
2 tablespoons Pistachios
450 grams Sugar