Blessingsonthenet Features More Than 600 Festival, Fairs, Fast, State Festivals, Regional Festivals, Festival Recipes, Temple Festival,Festival Gallery (Audio, Video,Photo Gallery) of India.
Gol Papdi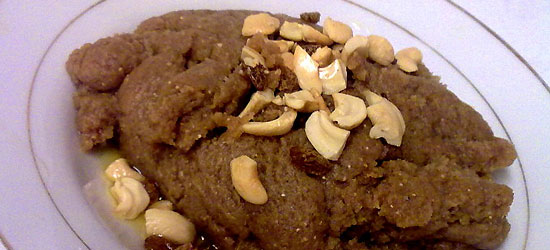 Gol papdi is a "healthy" Gujarati sweet! It is made out of wheat flour and jaggery, and so is not a very heavy sweet to be eaten.
It can be stored for many days without spoiling the original taste.
Method
Method of making Gol Papdi :
Sprinkle the poppy seeds on a 100 mm. (4") diameter greased thali. Keep aside.
Combine the ghee and wheat flour in a glass bowl and microwave on HIGH for 3 minutes 30 seconds, till it turns golden brown in colour. Mix well.
Remove from the microwave and add the jaggery and cardamom powder while the mixture is hot. Stir well till the jaggery melts.
Pour the mixture into the greased thali with poppy seeds while still warm and spread it evenly with the help of the base of a small bowl (katori).
Cut into diamond shapes while still warm.
Store in an air-tight container when cool.
Note :
You can add 1 tablespoon of milk along with the jaggery if the mixture becomes too hard.
Ingredients
Ingredients requiredd to make Gol Papdi :
1/2 cup whole wheat flour (gehun ka atta)
1/3 cup grated jaggery (gur)
1/2 tsp poppy seeds (khus-khus)
1/4 tsp cardamom (elaichi) powder
4 tbsp ghee