Blessingsonthenet Features More Than 600 Festival, Fairs, Fast, State Festivals, Regional Festivals, Festival Recipes, Temple Festival,Festival Gallery (Audio, Video,Photo Gallery) of India.
Gulab Jamun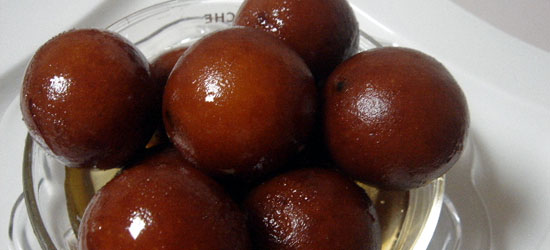 Gulab jamun also known as waffle balls, is a popular dessert in countries of the Indian Subcontinent such as India, Pakistan, Nepal and Bangladesh. It is made of a dough consisting mainly of milk solids (often including double cream and flour) in a sugar syrup flavored with cardamom seeds and rosewater or saffron.
The term gulab jamun comes from Persian, gulab, osewater referring to the rosewater-scented syrup, and Hindustani jamun, m., Syzygium jambolanum (also jâmaṇ, m., from the Hindustani language), a South Asian fruit with a similar size and shape.Gulab jamun originates from an Arabic dessert, Luqmat Al-Qadi (Arabic for he judge's bite), that became popular in the Indian Subcontinent during the Mughal era. Rosewater syrup is often used; however saffron syrup and honey are also common. The dessert also became popular in Turkish-speaking areas, spreading to the Ottoman Empire.

Gulab jamun is a dessert often eaten at festivals or major celebrations such as marriages, Diwali (the Indian festival of light) and the Muslim celebrations of Eid ul-Fitr and Eid al-Adha. There are various types of Gulab jamun and every variety has a distinct taste and appearance.

Gulab jamuns are a great choice for festivals and family get togethers. They may be served warm or at room temperature.
Method
Method of making Gulab Jamun :

Make the dough by combining the milk powder, Bisquick, butter.
Add just enough whole milk to make a medium-hard dough. Divide the dough into 18-20 portions.
Make balls by gently rolling each portion between your palms into a smooth ball. Place the balls on a plate. Cover with a damp yet dry kitchen towel.
Heat the oil on high and then lower the heat to medium.
Slip in the balls into the hot oil from the side of the pan, one by one. They will sink to the bottom of the pan, but do not try to move them. Instead, gently shake the pan to keep the balls from browning on just one side.
After about 5 mins, the balls will rise to the surface. The Gulab Jamuns should rise slowly to the top if the temperature is just right. Now they must be gently and constantly agitated to ensure even browning on all sides.
If the temperature of the oil is too high then the gulab jamuns will tend to break. So adjust the temperature to ensure that the gulab jamuns do not break or cook too quickly.
The balls must be fried very slowly under medium temperatures. This will ensure complete cooking from inside and even browning.
Sugar Syrup
The syrup should be made earlier and kept warm. To make the hot sugar syrup add mix the 2 cups of sugar to 1 cup of water. Add 4-5 cardamom pods, slightly crushed and a few strands of "Kesar". Mix with a spoon and then heat at medium heat for 5-10 minutes until sugar is all dissolved in water.
Do not overheat, that will caramelize the sugar.
Transfer this hot syrup into a serving dish. Keep warm on stove. Add the fried gulab jamuns directly into the warm syrup. Leave gulab jamun balls in sugar syrup overnight for best results. They can be served warm or at room temperature.
Ingredients
Ingridents required to make Gulab Jamun :
1 cup Carnation Milk Powder
1/2 cup all purpose flour
1/2 tsp baking soda
2 tablespoons butter -melted
Whole milk just enough to make the dough
For the Sugar Syrup
2 cups Sugar
1 cup water
Oil for frying