Blessingsonthenet Features More Than 600 Festival, Fairs, Fast, State Festivals, Regional Festivals, Festival Recipes, Temple Festival,Festival Gallery (Audio, Video,Photo Gallery) of India.
Karanjia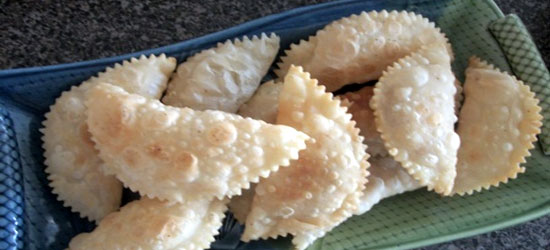 Karanjia is a Sweet dish, served as dessert, suitable for vegetarians.
On the occasion of Diwali people all over the country prepare best dishes at their home. There are so many varieties of Diwali dishes that it is difficult of decide what to make and what not! However, the sweet and scrumptious Karanji is the special dish that does not have a substitute on Diwali.
These are also called Karchikkais in south and gujiya in Gujarat and maharashtra.
Method
Method of making karanjia or Gujiya :

In a mixing bowl combine the salt, flour and ghee. Rub in well. Gradually add water and knead to form a firm dough. Cover with wet cloth and set aside.
For the stuffing: Cook the coconut (use fresh or dried) sugar, milk, chopped almonds and raisins, cardamom powder, and poppy seeds(optional) till the milk evaorates.
Divide the dough into 20-25 sections, roll them out into flat round pancakes. Place a spoon of stuffing at the centre and fold the pancake in half. Use a cutter to create the fluted crescent border and cut off excess dough. You can seal the edges by applying a little milk and pressing down hard.
After all the karanjis are stuffed, fry them in very hot oil for 2-3 minutes or till golden brown, remove onto paper towels and allow to cool.
The karanji can last for 7-8 days if stored in an air tight container.
Ingredients
Ingridents required to make Karanjia or Gujiya :
1 cup Wheat flour
3 tbsp Ghee
1 pinch Salt
1/2 litre Oil (for frying)
1 cup Grated coconut
3 1/4 cups Sugar
1 1/2 cups Milk
Few Almonds
Few Raisins
1/2 tsp Cardamom powder
1 tbsp Poppy seeds