Blessingsonthenet Features More Than 600 Festival, Fairs, Fast, State Festivals, Regional Festivals, Festival Recipes, Temple Festival,Festival Gallery (Audio, Video,Photo Gallery) of India.
Karthigai Pori Urundai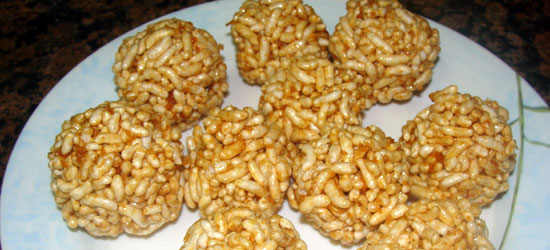 Karthigai Deepam is the oldest festival of South India. Falling in the Tamil month of Karthigai. An important festival in the state, the dishes prepared for the occasion are numerous. Karthigai Pori Urundai is one among them. Karth pori urundai is offered as prased to Lord Kartikeya,

Pori urundai is yet another neivedhyam for the Karthigai deepam festival. Some families have the tradition of just mixing the jaggery syrup to the puffed rice, while others make pori urundais. Ideally, the festival urundais are made with nel-pori, paddy puffed with husk by roasting,(The husk is cleaned later.) or with aval pori where the poha or beaten rice is roasted to puff up.
Stores in Tamilnadu will stock these up for festival of Karthigai deepam.
Method
Method to make pori urundai :
Clean the puffed rice to remove any unwanted particles that may be present in it.
In a wide mouth kadai, melt jaggary and remove impurities. Then continue boiling it, till you get the right syrup. (till it reaches a consistency of a ball). This can be identified by dropping a drop of the jaggary into a bowl of water and trying to make a ball. You should be able to get a solid ball of the melted jaggary.
Add the puffed rice, dry ginger, black pepper, coconut pieces and salt. Mix them well and remove from fire. Then grease your palms with ghee/oil and make the mixture into round medium-sized balls.
Ingredients
Ingridents required for making Karthigai Pori Urundai :
Puffed Rice - 1 cup
Jaggery powder - 1/2 cup
Crushed dry ginger - a pinch
Crushed black pepper - a pinch
Coconut pieces - 1/4 cup
Salt - a pinch