Blessingsonthenet Features More Than 600 Festival, Fairs, Fast, State Festivals, Regional Festivals, Festival Recipes, Temple Festival,Festival Gallery (Audio, Video,Photo Gallery) of India.
Rice Kheer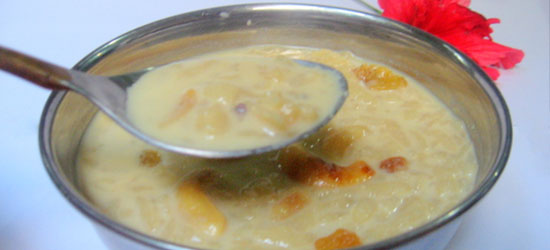 Every feast and festival is typified by at least one sweet and another savoury. But certain dishes cut across customs and religions in their popularity. The sinfully delicious, yet simple, kheer is one such. Whether it is a festival, religious function, breaking fast, birthday, or death anniversary, kheer effortlessly assumes the character of the occasion. Here's how you can whip up some!
Method
Method of preparing Rice kheer :
Put the rice, milk and cardamom in a pan, bring to boil and simmer gently until the rice is soft and the grains are starting to break up.
Add almonds, pistachio, saffron and raisins and simmer for 3-4 minutes.
Add the sugar and stir until completely dissolved.
Remove the rice kheer from heat and serve either warm or chilled.
For religious functions and events, kheer is usually served hot at the end of the feast.
However, a thick kheer also makes for a great frozen dessert!
Ingredients
Ingridents required to prepare Rice Kheer :
1/4th cup long grain rice (washed and drained)
4-5 cups milk
2-3 cardamom seeds (crushed)
2 tbsp almonds (blanched silvered)
A pinch of saffron threads, soaked in a little hot milk
1 tbsp skinned pistachio nuts (chopped)
1 tbsp raisins (optional)
2-3 tbsp sugar or as desired