Blessingsonthenet Features More Than 600 Festival, Fairs, Fast, State Festivals, Regional Festivals, Festival Recipes, Temple Festival,Festival Gallery (Audio, Video,Photo Gallery) of India.
Kuzhi Appam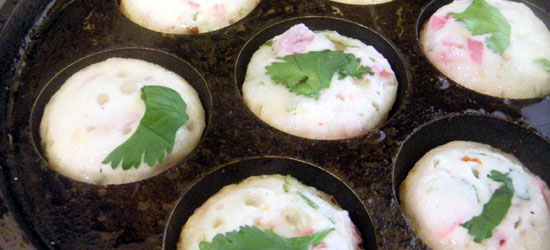 Kuzhi Appam is a sort of sweet pancake made in South India, or if you will, small flat cakes baked in a pan.Kuzhi Appam is made specially for Janmashtami in south india and offered as a prasad to lord Krishna.
Method
Method for Preparation ofKuzhi Appam :
Soak the rice for 2 to 3 hours and grind to the consistency of dosa batter.
Mix sufficient water with jaggery, heat in a pan until all the jaggery melts.
Filter this and keep aside.
Now in a bowl mix everything along with filtered jaggery except oil.
Add some water if you need. Mix everything smootlhly without any lumps. It should be a dosa batter consistency.
Heat an appam pan. Once hot enough, fill 1/4 of each kuzhi(hole) with the oil/ghee.

Turn over with the help of a stick and cook until the appams are fried well, and become golden brown on both sides.
Ingredients
Ingridents required for Kuzhi Appam :
Wheat flour - 1/2 cup
Rice Flour - 1/2 cup
Maida/all purpose flour - 1/2 cup
Coconut - 1/2 cup
Jaggery - 3/4 to 1 cup(according to the sweet level you need)
Ghee - 1 tsp
Cardomom powder - 1/2 tsp
Baking soda - a pinch(optional)
1 Ripe Banana(optional) - mashed
Oil for frying