Blessingsonthenet Features More Than 600 Festival, Fairs, Fast, State Festivals, Regional Festivals, Festival Recipes, Temple Festival,Festival Gallery (Audio, Video,Photo Gallery) of India.
Luchi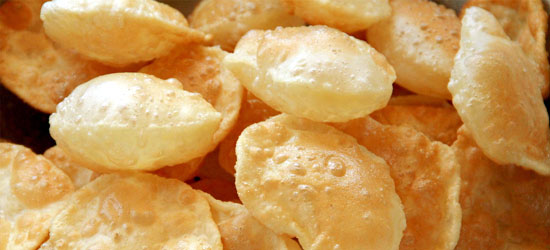 Luchi is one of the most delicious of Bengali dishes of Kolkata. This simple food is made with the principle of vaporization of water. Luchi very tasty and you can take it with curry or fried potato or even with jam or suger. Bengalis cannot get enough of these fluffy fried luuchi. The taste and smell of luchi enhances if fried in ghee . During festival seasons like Durga Puja, Diwali this delicacy is highly in demand. Luchi tastes great even with Cholar Daal, Mutton Curry and rice pudding.
Method
Method of making Luchi :
Blend the flour, salt and sugar in a large bowl. Rub the melted ghee into it and gradually using enough water to make a stiff but pliable dough.
Cover the dough with damp cloth and set aside for 30 minutes.
Knead dough a little again. Dough should be stiff enough to roll without extra flour.
Make small balls of the dough and cover them with damp cloth.
Take one ball of dough and dip a corner of ball in melted ghee or oil and roll it out into 5 to 6 inches round. Repeat the same process to roll out all pooris.
Heat plenty of oil in a kadhai until very hot. Put in a luchi and immediately start flickering hot oil over the top of it with a spatula so that it will swell up like a ball.
This should take only a few seconds.
Flip the luchi over and cook the other side until golden brown.
Serve hot with curries ,vegetables ,Cholar Daal, Mutton
Curry and rice pudding..
Ingredients
Ingridents required to make luchi :
1 cup Broken wheat
2 1/2 cups Hot water
2 tablespoon Almonds
3/4 cup Sugar
15 nos. Raisins
1 teaspoon Cardamom powder
3/4 cup Ghee