Blessingsonthenet Features More Than 600 Festival, Fairs, Fast, State Festivals, Regional Festivals, Festival Recipes, Temple Festival,Festival Gallery (Audio, Video,Photo Gallery) of India.
Malaai Ghevar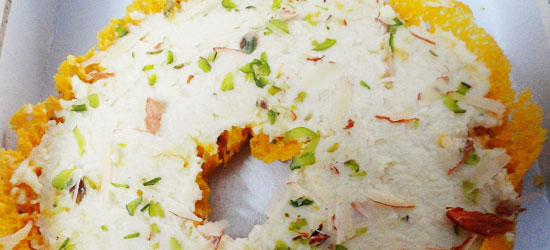 Ghevar is a sweet specialty from Jaipur.
Ghevar is a famous Rajasthani sweet traditionally associated with the Teej Festival aaand prasad offers to Lord shiva and Goddess parvati. It is disc-shaped, and made from oil, flour and sugar syrup. There are many varieties of Ghevar, such as plain, mawa and malai ghevar.
Method
Method to make Malai Ghevar :
1. Whisk the cold clarified butter with ice
and water.
2. Now add the white flour to this mixture.
3. Whisk the above mixture vigorously.
4. Add chilled milk to it and again whisk it,
taking care to avoid lumps.
5. Heat the clarified butter in a large, shallow wok.
6. Place the moulds (in the shape of a ring) in the wok.
7. Pour the mixture gradually in these rings.
8. When the ghevar (the sweet being prepared) is half done, make a small hole in the centre of the ghevar.
Ingredients
Maida (white flour) - 4 oz. (100 grams)
Ice - as required
Water - as needed
Clarified butter (cold) - 4 oz. (100 grams)
Clarified butter (hot) - 1 lb.
Milk - 100 ml
Pistachio flakes 5gms
Vegetable oil 10 gms

Rabri 100 gms
Elaichi powder 2gms
For Syrup: Water 60 ml, Sugar 100 gms