Blessingsonthenet Features More Than 600 Festival, Fairs, Fast, State Festivals, Regional Festivals, Festival Recipes, Temple Festival,Festival Gallery (Audio, Video,Photo Gallery) of India.
Malpua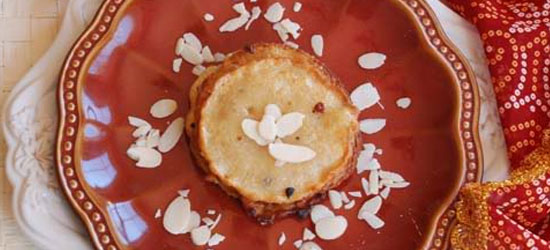 Malpuas are rich, soft filigreed pancakes. The pancake (malpua) batter can be sweetened as in this recipe or the fried malpuas can be soaked in a saffron flavoured syrup.
Udaipur and Pushkar are famous for their scrumptious atte ka malpuas. Coarsely ground wheat flour is used in this recipe as it helps to make crisper malpuas. These malpuas are a special feature at festivities and are always prepared for Teej and Hariali Umavas as a sacred offering to please the gods and goddesses. Malpuas Prasad offerd to Lord Shiva and Goddess Parvati
Method
Boil milk in a heavy-bottomed pan. Reduce heat and simmer till it is reduced and reaches a coating consistency. Add grated mawa and mix well. Bring it to room temperature.
Reserve two tablespoons of sugar and form one-string sugar syrup with the rest of the sugar and two cups of water.
Dissolve saffron in a teaspoon of hot milk. Add it to the sugar syrup. Add refined flour, green cardamom powder and the reserved sugar to the reduced milk.
Mix well and make a batter of pouring consistency using a little milk if required.
Heat sufficient ghee in a wide mouthed flat-bottomed kadai. Pour a ladle full of batter to form a pancake.
Cook on slow to medium heat. Turn it over when it starts to colour slightly.
When both sides are done, drain and immerse in the sugar syrup.
Garnish with pistachios and serve hot.
Take out with a slotted spoon & place in a strainer so that the extra ghee drips down.
Garnish with pistachios and serve hot.
Thus fry all the Malpuas. They can be stored for a week or so.
Ingredients
Ingridents required to make Malpua :
3 cups of fine wheat flour
1 cup fine semolina (Suji)
2 cups grated jaggery (gur)
2 Tablespoons ghee
1 Tablespoon peppercorns
2 cups milk
1 Lime
1 Tablespoon curd
50 gm Mawa (khoya),grated
Pinch each of salt and soda.
For sugar syrup
Sugar 2 cups
Saffron (kesar) a few strands
For garnishing
Pistachios,chopped 15 - 20