Blessingsonthenet Features More Than 600 Festival, Fairs, Fast, State Festivals, Regional Festivals, Festival Recipes, Temple Festival,Festival Gallery (Audio, Video,Photo Gallery) of India.
Milk Appam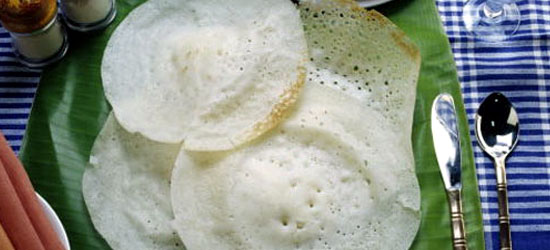 Appam is a sort of pancake in Kerala style. It is made out of rice and coconut milk. The appam is made in a vessel called " appa chatty" as popularly known in kerala. Though it is available only in kerala , we would suggest that one could try making this dish in a round bottomed dish. As long as one suceeds in getting the crispy and golden brown edges, with a soft filled center - what you have is the appam made in kerala style.
Method
Method of making Milk Appam:
)Grind together long grain rice and cooked rice very well with coconut milk and enough water, to make a batter of dripping consistency.
1)Make sure not to make the batter too watery.
2)Pour this in a vessel.
3)Dissolve yeast in a little lukewarm water and add sugar. Mix well.
4)Add this to the batter and stir it well.
5)Place this in a warm place overnight for fermentation to make nice appam.
6)Add salt and milk and mix well.
7)Make appam on an appakara.
:- Serve appam hot.
Ingredients
Ingridents required to make Milk Appam :
Long grain Rice - 3 cups
Cooked long grain rice (Choru) - 1 cup
Coconut milk - 1 cup
Grated coconut - 1/2 cup
Water - As reqd
Salt -1 tsp
Sugar - 2 tsp
Yeast - 1 tsp
Luke warm water - As reqd to dissolve yeast
Milk - 1/4 cup
Cardamom - 3 nos.