Blessingsonthenet Features More Than 600 Festival, Fairs, Fast, State Festivals, Regional Festivals, Festival Recipes, Temple Festival,Festival Gallery (Audio, Video,Photo Gallery) of India.
Mixture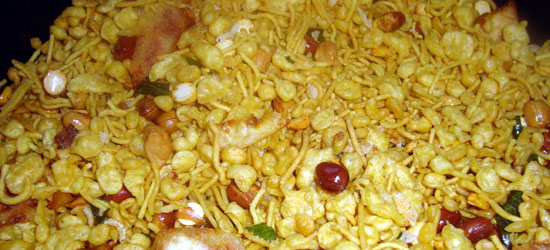 Mixture is a term commonly used in south Indian cuisine with reference to a mixture made out of a variety of deep fried fritters made of chick pea flour in various shapes. These deep fried fritters are mixed together with fried peanuts, raisins and flavored with salt and spices to make the most delicious and crunchy snack.Mixtures are also made for Festivals and specially in Diwali in Tamilnadu and Maharashtra

These are made in a slightly different manner and is called chivda in other parts of the country.
Method
Method of making Mixtures :
Heat oil in a pan. Now add half the poha. Deep fry the Poha till crisp.
Remove the poha from the oil with the help of a metal strainer.
Allow the oil to drain properly. Now put the fried poha on to thick layers of paper(so that the excess oil is absorbed)
Now repeat the procedure for the remaining poha, puffed rice, roaseted chana dal and peanuts.
Now mix all the ingredients together.
Now add chilli powder and mix it well.
Raisins could bring in an added flavor for the mixture.
Youcan store it for the festive season in an airtight container when cold.
Ingredients
Ingridents required for making Mixtures :
Poha (flaked rice) 2 cups
Puffed rice 2 cups
Roasted channa dhal 1 cup
Readymade boondi 1 cup
Roasted peanuts ½ cup
Cumin seeds 2 tsp
Sugar 2 tsp
Salt 1-1/2 tsp
Chilli powder 1-1/4 tsp
Turmeric powder ½ tsp