Blessingsonthenet Features More Than 600 Festival, Fairs, Fast, State Festivals, Regional Festivals, Festival Recipes, Temple Festival,Festival Gallery (Audio, Video,Photo Gallery) of India.
Motichoor Ladoo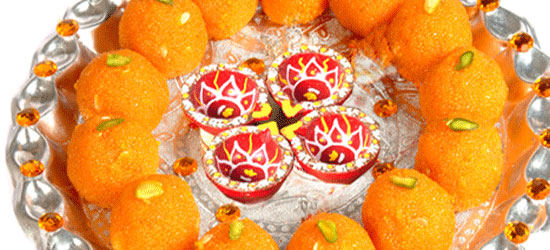 In India, laddoos have come to be regarded as a sign of festivities and celebration.No festival or occasion can be considered to be complete without ladoos. And they come in various forms. Amongst the enlarged variety of Ladoos, the most popular of all is Motichoor Ladoo. Though the method is not as easy as that of Besan Laddoos, it is definitely worth all the efforts.
Motichoor Laddu is thought to be the favorite food of Lord Ganesha. Motichoor laddu also finds a mention in the aarti of lord Ganesha, where a line goes "ladduan ka bhog lage, sant Karen seva". So, when it is occasion of Lord Ganesha's birthday i.e. Ganesh chaturthi,m otichoor ladoo is offered as prasad to lord Ganesha.
Method
Mehtod for making Motichoor Ladoo :

Mix the flour and baking powder well. Add the milk and some water and blend well to make a batter thin enough to pour. Mash the lumps of flour, if any.
Make a syrup by boiling the sugar with about 750 ml of water. When the syrup thickens to a stringy consistency, remove from flame.
Sieve gram flour with baking powder so that it mixes well.
Mix in 2 tblsp of melted ghee and enough water to make a batter of thick consistency.
Heat up ghee in a kadhai and with a perforated (holes) spoon drop boondis in ghee.
Rub the batter on the spoon with holes so that small drops of batter drop in oil, simultaneously tap the spoon on the rim of kadhai also.
Fry boondis till golden brown, remove and keep aside.
Meanwhile make three string (3 tar ki chashni) consistency sugar syrup mix in colour.
Put the fried boondis in this syrup, mix in the raisins and cut pistachios.
When mixture cools down slightly use buttered hands to make ladoos.
Ingredients
Ingridents required to make Motichoor Ladoo
1/3 cup milk (doodh)
1tblsp pistachios (pista)
few drops orange (santra) colour
pure ghee for frying
1tblsp raisins (kishmish)
cashewnuts - 20 gm each
Cardamom powder - 5 gm
a pinch baking powder
1/2 kg sugar (cheeni)
1/2 kg bengal gram flour (besan)