Blessingsonthenet Features More Than 600 Festival, Fairs, Fast, State Festivals, Regional Festivals, Festival Recipes, Temple Festival,Festival Gallery (Audio, Video,Photo Gallery) of India.
Mysore Pak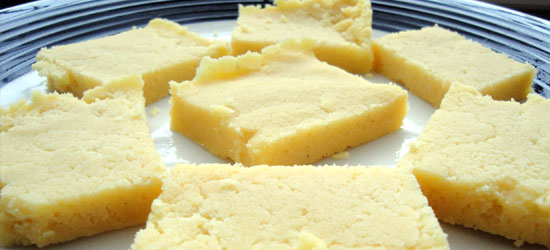 Mysore pak is a sweet dish of Karnataka, India, usually served as dessert. It is made of generous amounts of ghee (clarified butter), sugar and chick pea (besan) flour.

Mysore pak was originally known as Masoor(Dhal) pak and was made of Masoor dhal flour(Besan). The origin of the recipe is unknown.

Some say Mysore Pak was first created in the kitchens of the Mysore Palace by a palace cook named Kakasura Madappa out of the above ingredients.
Family functions, festivals, or weddings in most of southern India are incomplete without Mysore Pak. It is served with breakfast, lunch or afternoon tea, and often with savouries.
For festival of Diwali it is a must have sweet in Tamil Nadu.
Method
Method of making Mysore Pak :
Heat 200 ml of ghee, add the flour to it gradually and stirring all the while, so that it does not form any lumps. When it is mixed thoroughly, remove from the flame.

To the sugar, add 200 ml of water, and place on a low flame. Stir well.
When the sugar has dissolved, the syrup should fall thickly, but freely, in a string. Remove the dirt from the surface of the syrup and add the flour-ghee paste to it, stirring constantly. Ensure that there are no lumps.
Keep the rest of the ghee heated. Slowly, add it to the mixture, stirring deeply. Once the ghee separates from the mix and forms a layer on the surface, stop stirring.

Soon, the mixture will come off the sides of the vessel when stirred. At this stage, pour it into a greased tray, and level the surface. Tilt the tray so that the excess ghee drains away. Allow it to cool for 10 minutes. Before it begins to harden, cut into pieces. Store after it hardens.
Ingredients
Ingridents required to maake Mysore pak :
1 cup Bengal Gram
2 cups Sugar
1 cup Ghee
1/2 cup Water