Blessingsonthenet Features More Than 600 Festival, Fairs, Fast, State Festivals, Regional Festivals, Festival Recipes, Temple Festival,Festival Gallery (Audio, Video,Photo Gallery) of India.
Narkoler Naru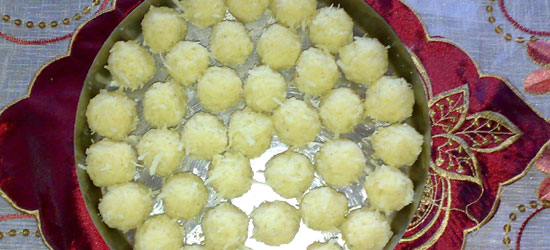 Narkoler Naru, are these lovely chewy coconut fudge balls traditional flavored with edible camphor.This is very traditional of another bengali festival - Lakshmi Puja.
This is very traditional of another bengali festival - Lakshmi Puja. Unlike Durga or Kali Puja Lakshmi Puja is very much a domestic festival, it is celebrated in most households in a homely way. Lakshmi is the goddess of wealth and is therefore invoked by business communities in all parts of India, the attributed of the bengali Lakshmi is a peaceful, compassionate and flighty goddess who thrives in an atmosphere of calm and cleanliness. Most households also pray to Lakshmi on Thursdays.
Houses are swept and washed clean and then decorated with alpona (a traditional floor design of rice paste), among other things the symbolic patterns include sheaths of rice paddy and pairs of feet for Lakshmi to walk on.
Method
Method of making Narkoler Naru :
In a heavy bottomed deep pan mix the shredded coconut and sugar with hand thoroughly
Put the pan on low heat and then stir for 4-5 minutes. The sugar will melt and mix with coconut and the coconut will be lightly roasted
Add about 2 cups of evaporated milk and 1/4 cup of Condensed Milk to the above. Add some cardamom seeds. Note: If you need more or less sweet, taste and adjust accordingly
Mix it all together and at low to medium heat cook with frequent stirring till the coconut is cooked. Keep stirring till the milk almost dries up and the coconut mix comes out clean from the sides. You will know by the slight change in color and the fact that the mix will no longer stick to the pan. Don't dry it too much, else you cannot make the balls.
Note: When you think it is almost done, test it out by trying to make a ball that stays. Approx time to reach this stage - 30-40 mins at medium heat
Take the pan off the heat and cool slightly. When mix is still warm to touch, make balls by rolling between your palms
Store in an air tight container .
Ingredients
Ingridents required to make Narkoler Naru :
(Makes 30 pieces)
Coconut, freshly grated - 1
Jaggery - 250 gm
Cardamom, crushed - 5
If you don't like jaggery, you could use sugar