Blessingsonthenet Features More Than 600 Festival, Fairs, Fast, State Festivals, Regional Festivals, Festival Recipes, Temple Festival,Festival Gallery (Audio, Video,Photo Gallery) of India.
Panak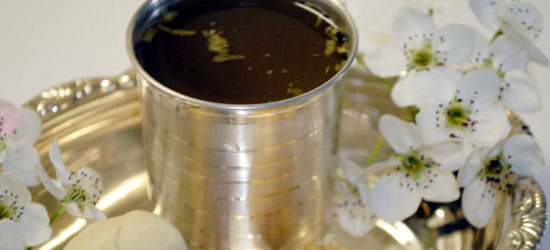 Panha or Panakam is used as a good refresher in summer.

The favourite drink of Sri Narasimha appears to be water mixed with jaggery-"Panakam". Whichever sannidhi we go to, we find this Lion God propitiated with "Panakam". Till today, there is the tradition of offering this sweetened water every evening to Lord Malola Narasimha (one of the nine forms of Narasimha Swami), at the Sri Ahobilam Matham. And you must have heard of the "Panaka Narasimhan" in Andhra Pradesh, who, irrespective of the quantity of "Panakam" poured into His cavernous mouth, accepts half the offering and returns the other half as prAsadam, signifying His insatiable appetite for this drink.
Ram Navami is celebrated as the birth day of lord Rama,the prasad offered t lord rama is Panak. Panak is a must during Rama Navami festival. Other dishes vary from temple to temple.
Method
Ingredients required for Panha:
4 medium-sized raw green mangoes
2 cups Jaggery / sugar
1 cup water
1 tbsp coarsely ground black rock salt
1 tsp freshly ground pepper
2 tbsps Aniseed/fennel seeds ground coarsely
2 tbsps cumin seeds roasted and ground coarsely
Chilled water
Ingredients
Method of making Panha :
Wash, peel and grate the raw mangoes. Mix the mangoes, sugar and water in a deep saucepan and boil till the mangoes are soft.
Put this mixture into a food processor and blend till smooth.
Put the blended mix back into the saucepan and on a medium flame.
Add the remaining ingredients and cook for another 20 minutes.
Take off from the fire and allow to cool completely.
Pour into glasses, dilute with a little chilled water if needed, mix well and add crushed ice.
Garnish with a sprig of mint and serve.