Blessingsonthenet Features More Than 600 Festival, Fairs, Fast, State Festivals, Regional Festivals, Festival Recipes, Temple Festival,Festival Gallery (Audio, Video,Photo Gallery) of India.
Patishapta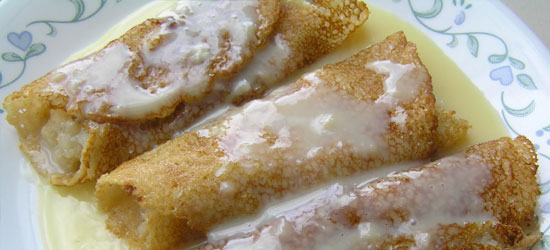 Patishapta is a sweet and scrumptious Bengali recipe.Patishapta Pitha, Puli pitha, doodh puli and so are various varieties of pitha which are generally popular in Bengal. The Patishapta Pitha is a sweet with its outer layer made of flour and the inner stuffing made of different savories like coconut and dry fruits. It is generally prepared on occasions Makar Sankranti, Diwali and Durga Puja.
Method
Method of making Patishapta :
For the filling-
In a wok heat the jaggery, as it start melting add the coconut
Put in the cardamom powder and stir till the coconut mixes well with the jaggery
Cook till the coconut feels sticky
Take out of flame and keep aside
For the crepes-
Add all dry ingredients together and mix well
Pour the milk with constant stirring to avoid lump formation, the batter should be smooth and freely flowing (add excess milk if required)
Heat a frying pan (preferably non-stick) and pour in 1 tablespoon on oil, spread it with a kitchen paper
Take a small bowl of batter and spread it evenly on the pan to make a round shape, do it quick before the batter sets
Place the filling lengthwise at the center of the crepe
Fold the crepe from both sides and wait till it turns light brown
Ingredients
Ingredients required to make Patishapta:
For the filling-
Grated Coconut (Narkel Kora): 3cups
Jaggery (Gur): 1cup
Cardamom powder (Elaich): 1/4 teaspoon
For the crepes-
Wheat flour (Maida): 1cup
Seomlina (Suji): 1/2 cup
Rice flour (Chal guro): 1/2cup
Milk (Dudh): 1cup
Sunflower oil for frying.
Preparation time: 10min
Cooking time: 25mins
Makes 10 patishapta