Blessingsonthenet Features More Than 600 Festival, Fairs, Fast, State Festivals, Regional Festivals, Festival Recipes, Temple Festival,Festival Gallery (Audio, Video,Photo Gallery) of India.
Payasam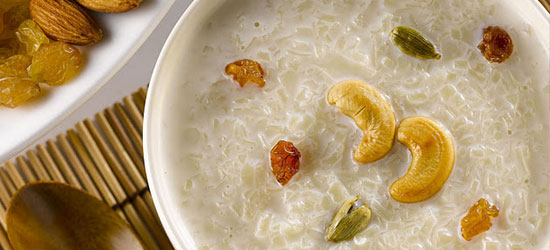 PAYASAM is a sweet dessert consumed by the people of South There are a variety of Payasams available.

Also called the Rice Kheer,it is a very famous Indian dessert which would be served first in the Plates / Plantin Leaf in all important occasions like birthday , marriage and all important south indian festivals and also offered to God / Goddess as prasad.
Payasam tastes delicious, not very strong sweetness attracts even non-sweet lovers. It's very easy to make in home and the recipes follows as boiling the milk, allow it to thicken and add rice, nuts. Even cooked rice can be used in the recipe.
This can be served either chilled or hot.
Method
Method of making Pal Payasam :
Cook the rice.
Add milk, condensed milk and sugar to rice.
Mix well.
Let is boil till payasam thickens.
Add cardamom powder and raisins.
Stir the payasam.
Serve hot or cold.
Ingredients
Ingredients frequired to make Pal Payasam :
1 litre milk
1 cup brown broken rice
1/2 cup sugar
1/4 tsp. cardamom powder
1/2 cup condensed milk
15-20 raisins