Blessingsonthenet Features More Than 600 Festival, Fairs, Fast, State Festivals, Regional Festivals, Festival Recipes, Temple Festival,Festival Gallery (Audio, Video,Photo Gallery) of India.
Channar Payesh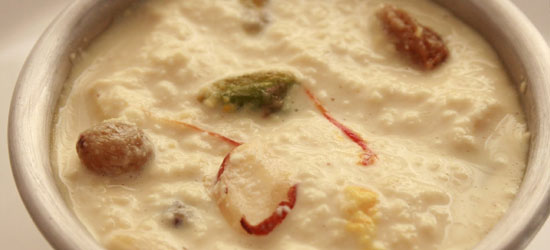 Payesh is a very popular dessert recipe of bengalis for festive occasions such as Durga Puja.

The new dish given here is Channar Payesh and it is made up of condensed milk, nuts and raisins. A mouthwatering delight to all the dairy products lover, the Channar Payesh is a very easy-to-make kind of recipe. The Channar Payesh tastes the best when it is served chilled. Even if you want to make something uncommon and scrumptious this Diwali, try this recipe given below.
Method
Method to make Channar Payesh:
Make a thin syrup of the sugar and water. Put the chenna (cottage cheese) in a bowl and add the hot syrup into it, blending it thoroughly.
Boil milk in a deep bottomed pan. Add the condensed milk. Simmer for 1-2 minutes.
Cool till just warm. Add the milk mixture into the channa, a spoon at a time. Mix vigorously to form a homogenous mixture till all the milk is used up. Pour into a bowl.
Mix in the nuts and raisins. Serve the channar payesh chilled.
Serves : 4-5
Time : 20-25 mins
Ingredients
Ingredients required to make Channar Payesh
1/2 litre Milk
1 tin Condensed milk
2 tablespoons Sugar
1 cup Water
2 tablespoons Nuts
2 tablespoons Raisins