Blessingsonthenet Features More Than 600 Festival, Fairs, Fast, State Festivals, Regional Festivals, Festival Recipes, Temple Festival,Festival Gallery (Audio, Video,Photo Gallery) of India.
Peda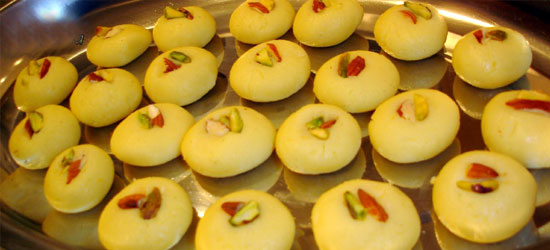 Peda is a very popular & refreshing Indian sweet.
Pedas are an all time favorite sweet. Pedas are like soft milk fudge.
Sweet and satisfying this simple Peda dessert yeilds extraordinary taste. Its simplicity combined with decadant taste makes this a great choice for special occasions and makes this a popular gift in India. Sophisticated without the opulance of other Indian sweets. Authentic peda is a sweet delicacy made from milk sweetened, mixed with cardamon and pressed into balls and studded with a cluster of dry nuts. Savor this festival favorite.
Mathura is famous for Mathura peda and offered in temples in mathura as prasad to God Lord Krishna and Goddess Rukmani.
There are diffrent variety of Peda like , Malai Peda, Mathura Peda,Mava Peda,Milk Peda.
Method
Method of Making Peda :
Malai Peda :
Boil the milk in a vessel, stirring throughout until it becomes half in quantity. Add the sugar and boil again for 4 to 5 minutes. Mix the citric acid in 3 teaspoons of water. Add this mixture very gradually to the boiling milk until it curdles slightly. This may require anything from half to the entire quantity of the citric acid mixture. Warm the saffron in a small vessel, add 2 teaspoons of milk and rub in until the saffron dissolves. Add to the boiling milk. Mix the cornflour in 2 teaspoons milk and add to the boiling milk. Go on cooking and stirring till the mixture becomes thick. Add the cardamom powder and mix well. Allow to cool. Shape the mixture into 18 small balls, and offer.
Mathura Peda :
Add saffron to lukewarm milk and set aside. Combine sugar with khoya, mix and then cook over medium heat until the mixture is smooth. Add milk in a slow trickle to khoya, stirring continuously and cook till milk is absorbed. Repeat the same process till all the milk is used. Take off the heat, add rose essence, cardamom powder and chopped pistachio. Mix well. Now take a little of the mixture and shape it into a round flat peda. Make same-sized pedas from the remaining mixture. Leave aside to cool thoroughly before offering.
Mava Peda :

For the Khoya (mava): Heat the milk in a non-stick pan on a high flame till it comes to boil. Continue to boil and keep on stirring continuously till it becomes semi-solid. Allow it to cool. For the Mava Peda: Mix the khoya and sugar in a heavy bottomed pan and cook on a slow flame. Keep on stirring continuously for 5 to 10 minutes till the sugar gets dissolved and the mixture leaves the sides of the pan. Take out from the fire, put the cardamom powder and saffron and stir properly. Cool completely. Divide the mixture into 8 equal parts and shape into even sized rounds. Decorate with slivered pistachios.
Milk Peda 1 :
Keep heavy based pan on the stove with three tablespoons water in it. Add sugar and make it single string consistency syrup. Then simmer the stove. Add butter then stir the liquid till butter melts. Add the milk powder and cardomam, mix well. Take away the pan and keep it aside. After one or two hours the batter will become thicker, make balls and flatten it like small biscuits. Garnish with chopped nuts and offer.
Milk Peda 2 :
Boil milk and half & half with few drops of lemon juice to make chenna, then side it aside. Melt the ghee in a pan and add the chenna to it. Add sugar and cardamom powder while stir continuously on a low heat. Beat the mixture well and remove from fire. Allow it to cool. Make equal portions of the mixture, make balls and flatten slightly. Place on a greased tray. Garnish with sliced pistachios and offer.
Ingredients
Ingredients required to make Peda :
Malai Peda :
4-1/4 cups milk
½ cup sugar
2 pinches citric acid
4 teaspoons milk
1 level teaspoon cornflour
4 to 5 cardamoms, powdered
a few blanched and chopped almonds
a few blanched and chopped pistachios
Mathura Peda :
2-1/2 cups khoya (or fine ricotta)
1-1/8 cup powdered sugar
1 cup milk
½ teaspoon cardamom powder
Large pinch saffron
¼ cup pistachios, chopped
3-5 drops rose essence.
Mava Peda :
For the Khoya (mava):
4-1/4 cups full fat milk
For the Mava Peda:
¼ cup powdered sugar
¼ tsp elaichi (cardamom) powder
a few saffron strands
2 to 3 slivered pistachios.
Milk Peda 1. :
1 cup whole milk powder
3/4 cup sugar
1/3 cup unsalted butter
Cardomam for good flavour
Nuts for garnishing.
Milk Peda 2. :
3 cups whole milk
1 cup half and half
4 tablespoon sugar
1 teaspoon ghee
12 Pistachio nuts (sliced)
1 teaspoon lemon juice
½ teaspoon cardamom powder